Game Details: Ace Golf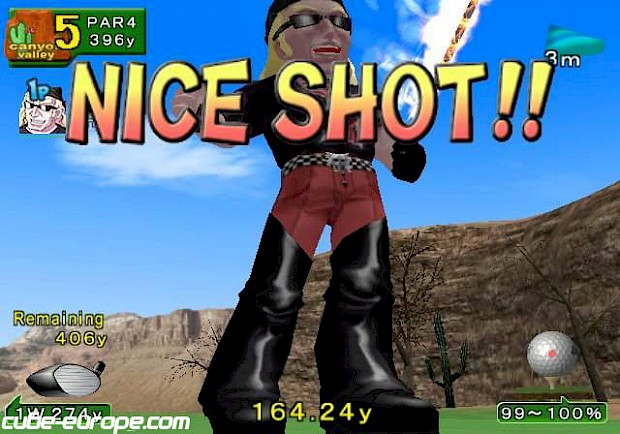 Grab your clubs, hit the green and prepare for some wild golfing action with Ace Golf. Ace Golf combines crazy arcade characters with real-world golf physics and intuitive gameplay. The result is an addictive pick up and play golf game for both novice and expert gamers alike! A choice of 6 fun and challenging courses featuring diverse terrain awaits you. From a cactus filled red rock desert to a classic English course with deep rough and pot bunkers, Ace Golf provides all the elements needed for a classic round or two. Featuring four modes of play for one-to-four players including Tournament, Stroke, Match and Short Course. Try the addictive mini games such as 'Nearest to the pin' that is played on a nine-hole, par three course.Choose from one of 14 offbeat characters such as Sonny, a rowdy, leather-clad biker or Lisa, an ultra-fit ex-military gal each with their own distinct personalities and golfing abilities. You can also select from a crew of six fast-talking caddies ready to offer encouragement and advice. Ace Golf is ideal for all golfing levels. Whether you are a seasoned pro or a first time player Ace Golf's intuitive controls allow you to fine tune your swing. Integrating the club's swinging power and shot accuracy into one smooth action using the Nintendo GameCube C Stick leaves you more time to plan your winning shot. As well as intuitive controls Ace Golf also offers a whole host of customising options to personalise your game. Alter the difficulty level by turning off distance gauges and wind speed meters, or equalising skill levels in the multiplayer modes allows everyone to compete on a level playing field. You can also upgrade your golf gear by winning tournaments and beating rivals, and for that everlasting memory, Ace Golf players can save those once-in-a-lifetime shots to show to their friends.
News about Ace Golf for Gamecube
Grab your clubs, hit the green and prepare for some wild golfing action with <b>Ace Golf</b>.
Posted by Tim Symons 21 years ago