A new Tetris 99 Grand Prix is inbound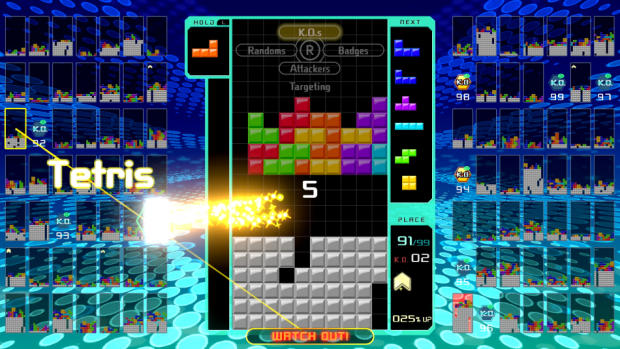 Posted 29 Jul 2020 at 11:15 by Dennis Tummers
This weekend, from 08:00 (UK time) on July 31st until 07:59 (UK time) on August 4th, a new tournament is happening in Tetris 99. The 15th Grand Prix is a crossover event with Paper Mario: The Origami King.
You probably know the drill by now. Collect 100 points in the event period to permanently unlock a special theme based on The Origami King. The higher you end in a match the more points you get. If you manage to win a match and score a Tetris Maximus you will instantly receive 100 points.
Tetris 99 is available for subscribers to the Nintendo Switch Online program.
<center> <blockquote class="twitter-tweet"><p lang="en"
dir="ltr">Unwrap a <a href="https://twitter.com/hashtag/PaperMario?src=hash&amp;ref_src=twsrc%5Etfw">

#PaperMario<: The Origami King theme in this week&#39;s <a href="https://twitter.com/hashtag/TETRIS99?src=hash&amp;ref_src=twsrc%5Etfw">#TETRIS99< Grand Prix! <a href="https://twitter.com/Tetris_Official?ref_src=twsrc%5Etfw">@tetris_official<<br><br>► <a href="https://t.co/4L8XchgeKb">https://t.co/4L8XchgeKb< <a href="https://t.co/2eHiehGqO5">pic.twitter.com/2eHiehGqO5<<&mdash; Nintendo of Europe (@NintendoEurope) <a href="https://twitter.com/NintendoEurope/status/1288399145875775489?ref_src=twsrc%5Etfw">July 29, 2020<</blockquote> <script async src="https://platform.twitter.com/widgets.js" charset="utf-8"></script> <