Baten Kaitos I & II HD Remaster Out Now!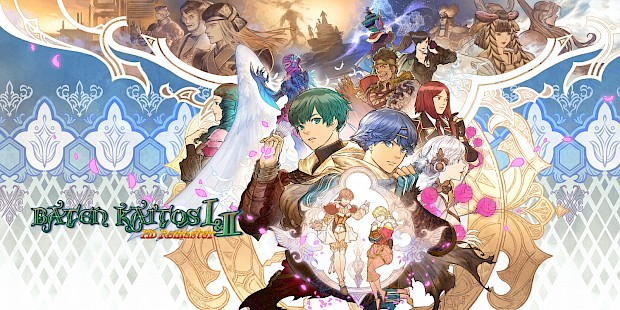 Posted 17 Sep 2023 at 18:06 by Joshua Phillips
The latest Nintendo Direct featured the news that one of the very best GameCube RPG's, Paper Mario: The Thousand Year Door, is being remade and is coming to the Nintendo Switch in 2024. But that's 2024, what about right now?
Well, right now, as of Friday 15th September, another one of the greatest GameCube RPG's landed on Nintendo Switch, Baten Kaitos! And not just the beloved Baten Kaitos we got here in Europe, but also Origins, which never saw the light of day over here.
This double pack features both titles in HD, with some remodelled backgrounds and re-worked character models!
Early impressions across the internet are generally favourable, as they are still the beloved turn-based card-combat RPG's from the 2000's we know and love, but as with a lot of ports lately, they do have some questionable performance issues and quirks.
At the moment, the games seem to run between 30-45fps. While they don't dip below 30, this inconsistent FPS could put some people off, and because of this, many are calling for Namco to cap the FPS in an update.
There's also concern at the omission of the English dub, though this is more than likely due to the low quality of the audio in the original version. Without the budget to re-do an English dub, it seems unlikely it will return, but perhaps fan demand could force Namco to send out an update with the original muffled audio for those that want it.
Scroll down for the official word from the publisher, and the launch trailer!
Two JRPG masterpieces return. Baten Kaitos: Eternal Wings and the Lost Ocean and Baten Kaitos Origins are back with improved graphics and new features to aid game progression, making them even easier to play!

A long time ago, there was a great conflict between the evil god and the people. After a fierce battle, the people managed to seal off the evil god, but what was left behind was only a desolate land. The people thus chose to abandon the land and live in the sky.

Such fairy tales were passed down as legends. At this time, people had wings called Wings of the Heart and lived a peaceful life. It was an era of long-lasting tranquility. ...But the collapse had quietly begun.

When a young man calls your name, the name of the spirit, the story begins to unfold. A story set on a floating continent in the sky, where thoughts and prayers intersect.