Breath of the Wild Link added to Mario Kart 8 Deluxe roster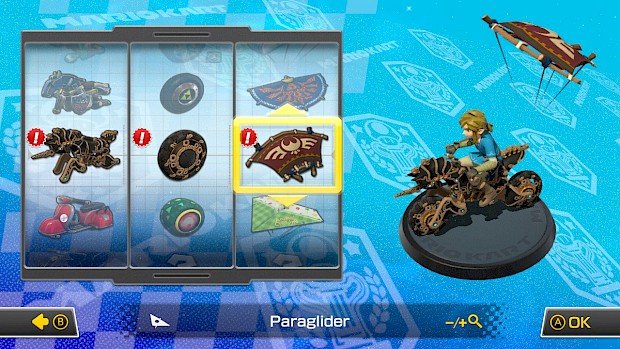 Posted 20 Jul 2018 at 05:37 by Dennis Tummers
This week Nintendo mentioned that they will add more content to Mario Kart 8 Deluxe. A couple of weeks ago Nintendo Labo support was added to the game. This morning another nice surprise hit the track.
Updating the game to version 1.6.0 adds Breath of the Wild Link to the roster! As an alternative costume to Link, you can now race in his familiar blue tunic, complete with an ancient weapon. His trusty Master Cycle Zero from the BOTW DLC is also included, complete with Ancient Tires and an Ancient Kite.
<blockquote class="twitter-tweet" data-lang="nl"><p lang="en"
dir="ltr">A new update to <a href="https://twitter.com/hashtag/MarioKart?src=hash&amp;ref_src=twsrc%5Etfw">#MarioKart< 8 Deluxe is available now for <a href="https://twitter.com/hashtag/NintendoSwitch?src=hash&amp;ref_src=twsrc%5Etfw">#NintendoSwitch<! Race like a champion with the Master Cycle Zero and Champion's Tunic

Link from The Legend of <a href="https://twitter.com/hashtag/Zelda?src=hash&amp;ref_src=twsrc%5Etfw">#Zelda<: Breath of the Wild! This update also includes the Ancient Tires and the Paraglider parts! <a href="https://t.co/cpxwRpdhcB">pic.twitter.com/cpxwRpdhcB<<&mdash; Nintendo of America (@NintendoAmerica) <a href="https://twitter.com/NintendoAmerica/status/1020112660778561536?ref_src=twsrc%5Etfw">20 juli 2018<</blockquote> <script async src="https://platform.twitter.com/widgets.js" charset="utf-8"></script>