Call of Duty Officially Coming to Nintendo Platforms
Posted 23 Feb 2023 at 14:06 by Joshua Phillips
Microsoft have gone out of their way in recent times to prove that their upcoming acquisition of Activision is a good thing, and not something that may hinder the industry. Microsoft have been pushing for this acquisition for quite some time now, but have hit multiple road blocks in the form of anti-trust law makers, who deem it to be a monopolisation of the market.
In a bid to make the deal go through, and assure gamers, Microsoft previously stated that they plan to make COD available on all platforms for 10 years after the deal, but now it's official, for Nintendo at least, as Microsoft have signed a contract confirming that Call of Duty will come to Nintendo platforms.
Brad Smith, Vice Chair and President at Microsoft had this to say:
We've now signed a binding 10-year contract to bring Xbox games to Nintendo's gamers. This is just part of our commitment to bring Xbox games and Activision titles like Call of Duty to more players on more platforms.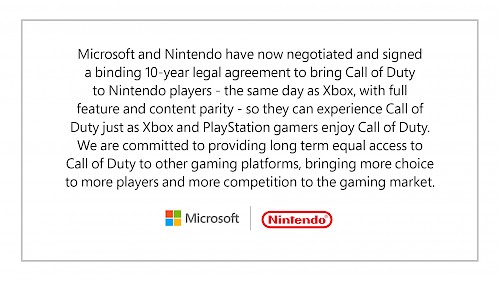 No date on when the titles will start arriving has been set, which could be part of the reason Microsoft didn't mention the Switch specifically, as for all we know, the time at which these titles start arriving could be when the next generation Nintendo console is already on the market.
Either way, it's safe to say a majority of Nintendo gamers will be looking forward to this, as the Treyarch COD games are remembered fondly, especially the 60fps Wii U titles which still enjoy an active player-base to this day.
This is just one of many partnerships Microsoft have enjoyed with Nintendo in recent years, starting with bringing the world-renowned Minecraft to Wii U, 3DS and Switch, followed by the explosive reveal of Banjo and Kazooie for Super Smash Bros. Ultimate, and most recently the reveal of Rare's Goldeneye 007 arriving on the Nintendo Switch Online Expansion Pak.