Fae Farm Releases Today!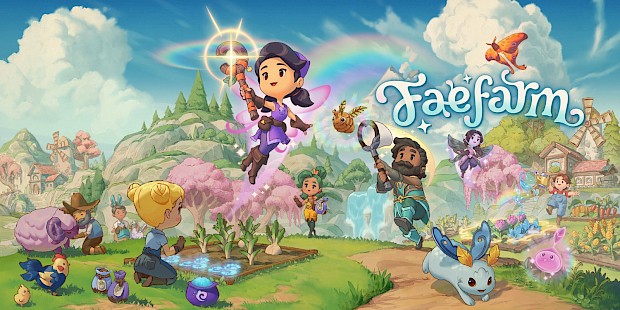 Posted 08 Sep 2023 at 09:15 by Joshua Phillips
There are plenty of farming games available on the Switch right now, so it takes something special to stand out among the sea of scythes, fishing rods and crafting tables.
It seems Fae Farm has done just that, with its mix of cave plundering, monster slaying, animal raising action, it looks set to stand tall among what is an increasingly saturated market on Switch.
Scroll down to see what all the fuss is about, as Nintendo released a launch trailer on their YouTube channels today, to celebrate the release:
Your magical home awaits!

Escape to the world of Fae Farm and create your own cosy home in the enchanted world of Azoria. As you nurture and grow your homestead, you'll get to meet charming characters, foster deep relationships and discover ways to infuse magic into everything you do. Customise your character, master the arts of crafting, cooking, potion-making and discover so much more.

Unfold the mysteries of the island on your own or with up to three other players. You can invite your family and friends or visit their homestead to progress together, playing beside you or online. As the seasons change, you'll be able to unlock new areas and restore the world around you.

Cosy and customisable

Create your own character and customise your adventure with unlockable styles and decorations for your farm. The cosier your home, the better your experience! The story unfolds independently from the in-game calendar, allowing you to play at your own pace.
 

Build your dream homestead

Cultivate the land and build a home of your own. With magic on your side, your homestead will flourish beyond your wildest dreams.

Budding Friendships

Azoria is home to a cast of colourful characters! As you progress through the story, you can build bonds with many islanders along the way. You can even find romance by going on dates and eventually getting married at Town Hall.

 

Magical Creatures

As you tend your farm, you can care for a variety of cuddly animals to produce eggs, wool, and more. You can also raise baby animals in many different colours and explore the island to discover magical critters that drop rare potion ingredients. But not all creatures are friendly: beware the jumbles, mischievous spirits that block your path!

Adventure is at your doorstep

Explore the realms of Azoria as you traverse the island with your skills and spells. Forage caves to gather resources and battle jumbles! Progress at your own pace as you uncover new mysteries and restore peace to Azoria.

One for all

You can play on your own or with up to three of your friends online or over local wireless. Share your progression, build a farm together where everyone's efforts count, and support each other through the quests and challenges of the world around you.