LEGO 2K Drive - Awesome Reveal Trailer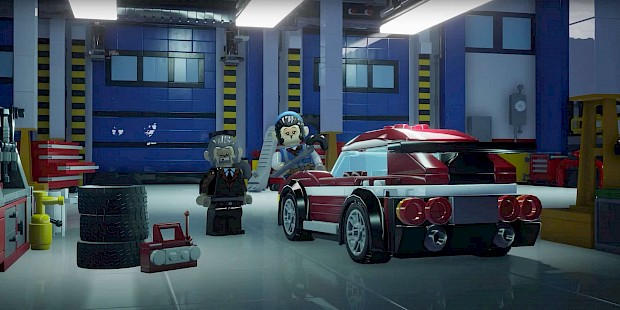 Posted 24 Mar 2023 at 11:20 by Joshua Phillips
LEGO 2K Drive is the first title in a long line of partnerships between LEGO and developer 2K. It will offer an open world driving experience, similar to the amazing Forza Horizon, which coincidentally had a LEGO expansion a few years ago!
Build your own vehicle and then go exploring, take on tasks, or embark in some races in this modern day LEGO racing title! Scroll down for the trailer and more information from 2K.
Today, 2K and the LEGO Group announced LEGO® 2K Drive, the ultimate AAA driving adventure game, available worldwide on May 19, 2023. Developed by Visual Concepts, LEGO 2K Drive evolves the iconic LEGO play experience with a vast, open world where players can build any vehicle, drive anywhere and become a LEGO racing legend.

LEGO 2K Drive will be the first release in a multi-title partnership between 2K and the LEGO Group to develop AAA LEGO games. With 2K's proven expertise in creating high quality and engaging interactive entertainment properties and the LEGO Group's unprecedented cultural impact, the partnership will evolve the iconic LEGO games experience fans know and love in exciting new ways.

A world-class team at Visual Concepts with deep experience in the genre will bring AAA quality, depth of gameplay and stunning visuals to a LEGO driving game for the first time. LEGO 2K Drive will combine the best elements of open-world driving and fast-paced competitive racing, while introducing a diverse vehicle customization system.

Additionally, a collaboration with supercar and hypercar company McLaren Automotive will bring the McLaren Solus GT and McLaren F1 LM – just released in a LEGO Speed Champions double-pack set to help celebrate 60 years since McLaren was founded by racer and engineer Bruce McLaren – to the world of Bricklandia, as the cover cars perfectly encapsulate the thrilling, high-octane experience fans can expect in LEGO 2K Drive.

Key features of LEGO 2K Drive include:
● A Story in a Vast Open World: Players will journey across Bricklandia's multiple unique biome regions as they compete against a series of charismatic rivals with hopes of one day winning the coveted Sky Cup Trophy. In LEGO 2K Drive, players choose how they want to play, with a wide open world to explore full of racing, minigames, challenges, collectibles, things to destroy, and well-known vehicles from LEGO themes like City, Creator, Speed Champions and more.
● High-Octane LEGO Racing: Racing in LEGO 2K Drive is a fast-paced, off-the-wall experience as players battle across a broad range of tracks while taking advantage of unique power-up abilities that can transform a player's standing in the race with the touch of a button.
● Unique Customization: LEGO 2K Drive introduces a diverse customization system that allows players to build their own vehicles to suit their tastes, with over 1,000 unique LEGO pieces available over the course of their adventure, in addition to a wealth of color designs, stickers, flairs, and more.
● Play Solo or Together: LEGO 2K Drive offers robust co-op and thrilling competitive multiplayer to enjoy with others. Play with family and friends via local, 2-person split-screen or match online with other intrepid racers of similar skill levels.