Mario Kart 8 Booster Course Pass Physical Release
Posted 27 Sep 2023 at 15:58 by Joshua Phillips
A physical release of the Mario Kart 8 Booster Course Pass DLC arrives next month, on October 6th, for the RRP of £29.99.
This physical box comes with a download code for the Booster Course Pass, which features new characters and 48 tracks, as well as some neat real life items too, like stickers, art cards and a set of 4 pins.
It should be noted that Mario Kart 8 itself does not come with this package, so you'll have to purchase the game separately as a physical cart or download it off of the Nintendo eShop before you can enjoy this package!
So a 'physical release' in this sense is more just 'code in a box', compared to the comparatively more impressive Pokémon bundle which comes with the base Scarlet or Violet game and DLC already downloaded onto the cart.
For comparisons sake, the Booster Course Pass can be downloaded from the eShop for £22.99. So for an additional £7, this DLC comes in a nifty box with those little extras such as the badges and art cards.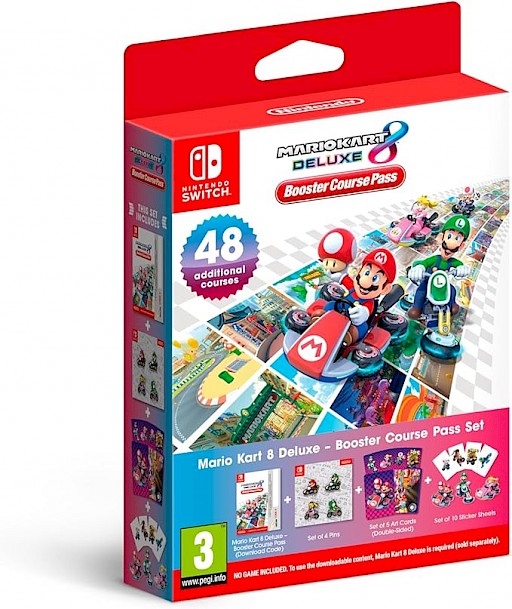 A nice Christmas gift perhaps, but a more interesting bundle would be the entire game and DLC on one cart. Perhaps we can look forward to that next year!
Here's the official description from Nintendo:
Race on 48 remastered courses from across the Mario Kart series with the Mario Kart 8 Deluxe – Booster Course Pass!

Play as additional characters including Birdo, Kamek, Petey Piranha, and Wiggler. Includes Mario Kart 8 Deluxe – Booster Course Pass Download Code, Set of 4 Pins, Set of 5 Art Cards (Double Sided) and a Set of 10 Sticker Sheets.

No Game Included. To use the downloadable content, Mario Kart 8 Deluxe is required (sold separately)