Mario Kart 8 Deluxe launching April 28th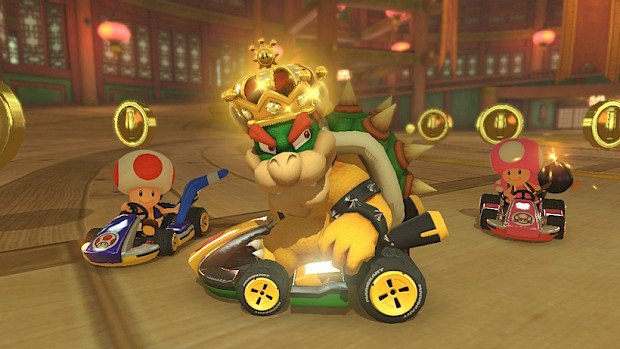 Posted 10 Mar 2017 at 10:11 by Ashley Jones
Get rady to race at greater speeds, compete in more deadly battles and play anywhere you are when Mario Kart 8 Deluxe hits the Nintendo Switch on April 28th.
The game is a remake of the Wii U title with some added new features, new battle modes and battle stadiums and new mechanics such as double weapons.
A new 'Smart Steering' feature is designed to provide help for weaker players by preventing you from steering off the track - Rainbow Road will never be the same again!
Mario Kart 8 Deluxe will take advantage of the Switch's form factor by allowing you and a friend to race in tabletop mode using a single Joy-Con and a split screen. In addition to this you can use the Joy-Con Wheel, which will be sold as a pair from April 28th as well. Of course, you can also use the Pro Controller, handheld mode or the grip to play Mario Kart 8 Deluxe.
The game will come with 42 racers and 48 courses straight away, with Gold Mario unlocked by completing all cups in 200cc. Inking Boy and Girl from Splatoon will feature in the game for the first time, and Splatoon amiibo can be used to create Splatoon costumes for Mii racers. A new Urchin Underpass course for Battle Mode will also give players a chance to experience the Splatoon world in Mario Kart.
One of the main issues with Mario Kart 8 was the Battle Mode, which is thankfully being revamped. Eight new dedicated courses will be introduced, in contrast with Mario Kart 8's courses that were whole maps that led to barren battles. These new courses will feature selections from previous titles such as Mario Kart 7.
Mario Kart Double Dash!! Bob-omb Blast and Shine Thief modes join Balloon Battle, while Coin Runners from Mario Kart Wii makes a comeback and a new 'cops and robbers mode' known as Renegade Roundup, providing Mario Kart 8 Deluxe with many more battle modes compared to its predecessor.
You can join your friends in multiple ways. Four players can play on a single console in TV mode or in tabletop mode, or eight players can play through Wireless Play providing you have multiple Switch consoles. Online multiplayer allows you to play in 12-player races or you can connect up to 12 consoles in TV mode through LAN Play (adaptor sold separately) with one or two players per switch.