Mario + Rabbids Sparks of Hope DLC and Free Demo Available Now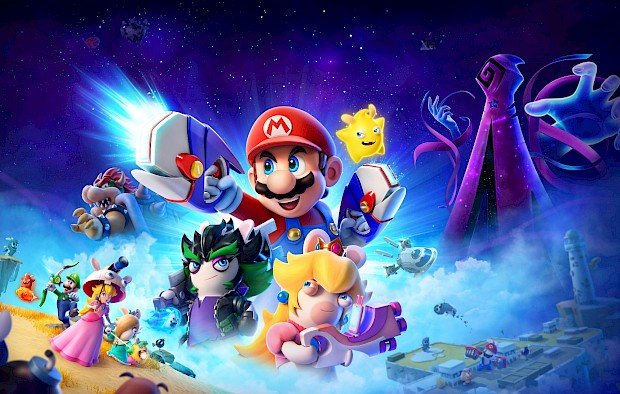 Posted 06 Mar 2023 at 13:34 by Joshua Phillips
Ubisoft hope to spark some interest in the latest Super Mario switch title, Mario + Rabbids Sparks of Hope, with a free demo for all Nintendo Switch users.
Hop onto the Mario + Rabbids eShop page now on your Nintendo Switch to download the demo and enjoy the adventure from the beginning.
This Mario + Rabbids Sparks of Hope Demo gives you a taste of the award-winning tactical strategy adventure available now! Team up with Mario, Rabbid Peach and their friends on a galactic journey to defeat a malevolent entity and save your Spark companions. Explore the game through the Prologue and much of the first planet, Beacon Beach, with all features for you to try.

Six Heroes are available for you to try throughout the Demo, as well as any Sparks you encounter.
After the Prologue, much of the content of Beacon Beach is available including side quests and secrets.
All features are available including difficulty selection, ability to replay past battles, memories, etc.
There is no time limit on this Demo.
Note: this is a Demo version of the game. It allows you to play the start of the game up through much of the first planet. If you played the Demo and purchase the full game, you will be offered the option to directly skip the Prologue.
Mario + Rabbids Sparks of Hope was one of the most critically acclaimed Switch titles of last year, continuing the series critical success after the first title arrived in 2017.
Despite critical acclaim and great sales of the previous title, Ubisoft recently stated that sales for Sparks of Hope were lower than expected. Yves Guillemot, Ubisoft co-founder and chief executive, had this to say:
"Despite excellent ratings and players' reception as well as an ambitious marketing plan, we were surprised by Mario + Rabbids: Sparks of Hope underperformance in the final weeks of 2022 and early January.

All we can say about Rabbids is that the game has been really well appreciated by players: we are getting community ratings that are excellent.

We feel that the game is going to do good numbers over time, but the beginning was not at all what we expected."
This free demo could be the kick that the title needs to see better numbers over time. For those that have already enjoyed the adventure, fear not, as there are 3 DLC packs on the way this year, with the first, The Tower of Doooom, available now!