Puzzle Bobble Everybubble Release Trailer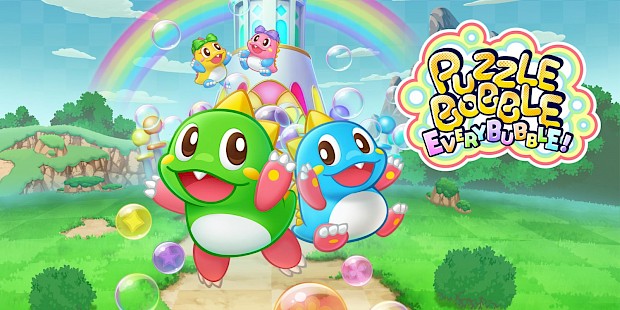 Posted 25 May 2023 at 08:53 by Joshua Phillips
Puzzle Bobble is back, and this time you can bring a friend! For those of us with friends estranged or afar, this bubble-busting puzzler can also be enjoyed online!
Not only that, but Puzzle Bobble itself is joined by its own friends, the Space Invaders – Enjoy PUZZLE BOBBLE VS SPACE INVADERS, which is included in this package!
Join Bub, Bob, Peb, and Pab as they embark on a thrilling adventure in Rainbow Islands, home to the adorable Miniroons. But beware, trouble strikes when the Miniroons begin blowing bubbles uncontrollably, causing chaos for the island's inhabitants. It's up to our four friendly bubble dragons (and the many additional characters we all learned to love) to come to the rescue and help the Miniroons put an end to their bubble-blowing blunders!

Dive into the captivating world of Puzzle Bobble Everybubble!, where you can experience the fun in single-player mode, team up with friends in couch co-op, or challenge players from around the globe in online multiplayer matches! And that's not all – the unique game crossover PUZZLE BOBBLE VS SPACE INVADERS is included, adding even more excitement to the mix!

Are you ready to immerse yourself in the latest installment of the beloved Puzzle Bobble/Bust-a-Move series? Look no further – Puzzle Bobble Everybubble! is available now. Don't miss out on this mesmerizing puzzle adventure – get your copy today and start bursting bubbles like never before!

 
Puzzle Bobble Everybubble is available now on Nintendo Switch!