Release date roundup 23/04/2022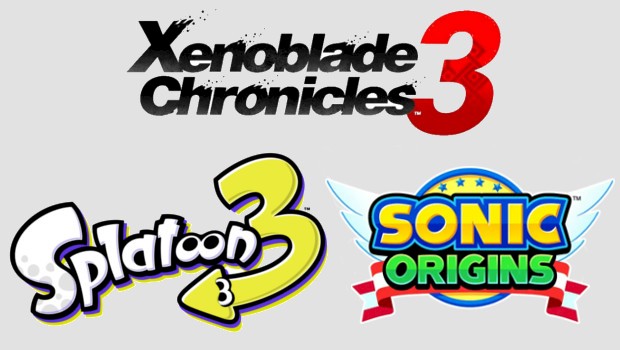 Posted 23 Apr 2022 at 02:50 by Sam C Gittins
Release dates have been revealed for the following titles...
Sonic Origins - June 23, 2022
Xenoblade Chronicles 3 - July 29, 2022
Splatoon 3 - September 9, 2022
Check out the press releases and trailers below...
Sonic Origins
Relive the classic collected adventures of Sonic the Hedgehog, Sonic the Hedgehog 2, Sonic 3 & Knuckles, and Sonic CD in the newly remastered Sonic Origins! From the iconic Green Hill Zone to the treacherous Death Egg Robot, you'll speed down memory lane to thwart the sinister plans of Doctor Robotnik in polished high definition! This latest version includes new areas to explore, additional animations, and a brand new Anniversary mode!

Classic Re-defined - Explore the classic Sonic titles in high-resolution, with all-new opening and ending animations for each title!

New Unlockables - Complete various missions to collect coins to unlock new content, challenges, and Special Stages through the Museum.

Classic and Anniversary Mode - Choose to Spin Dash your way through the numerous zones in Classic mode with the game's original resolution and limited lives, or the new Anniversary mode with unlimited lives and revamped fullscreen resolution.
- - - - -
Xenoblade Chronicles 3
In the game, players will step into the roles of protagonists Noah and Mio amid turmoil between the nations of Keves and Agnus. Six characters hailing from those nations join forces to learn the truth behind their conflict, and set their sights for Swordsmarch, a land pierced by a giant sword.

Battle with up to seven characters: Like in previous Xenoblade Chronicles games, battles start by facing enemies directly in the overworld. Players can control Noah's party of six, as well as additional characters they'll meet during the adventure. Each character has their own role in battle, which allows for diverse strategies.

Class change: Noah is a Swordfighter, specializing in close-range attacks, while Mio is a Zephyr, drawing enemy attention while evading their strikes. Thus, each character has their own class with their own strengths. Progressing in the adventure, players can change characters' classes, creating a customized party.

New Interlink system: Each of the tag-team pairs – Noah and Mio, Lanz and Sena, Eunie and Taion – can make use of the Interlink system if certain conditions are met. They will then combine into a giant form called Ouroboros. Each Ouroboros has its own powerful move set, and deciding when to transform can be the key to winning a battle.
- - - - -
Splatoon 3
In Splatoon 3, online 4-v-4 Turf War battles can create heated matches across a mix of new and returning stages, where teams of four face off to cover the most ground in their ink. Newly uncovered footage provides insight on one of these new stages, Eeltail Alley, along with a look at the stringer – a new bow-shaped weapon type that enables you to sling ink sideways and vertically.
- - - - -
Will you be buying Xenoblade Chronicles 3 for a potential fifty-plus hour JRPG adventure? Or are you holding out for some online battles in Splatoon 3? Are you interested in playing Sonic 3 & Knuckles as part of Sonic Origins?
You're welcome to share your opinion by joining in with the discussion on our forum.