Samba de Amigo: Party Central is Out Now!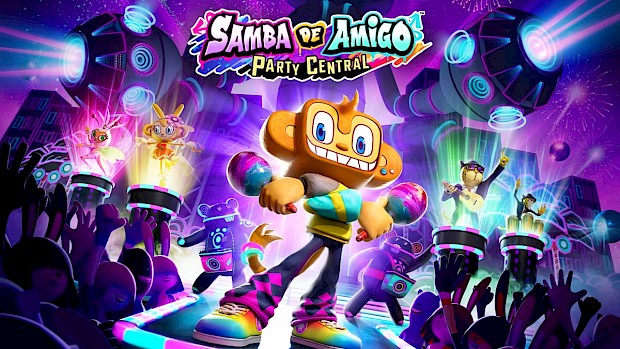 Posted 30 Aug 2023 at 09:19 by Joshua Phillips
Samba de Amigo shook the gaming world in the year 2000 when it launched on the SEGA Dreamcast with its seemingly magical motion-controlled maracas, and it returned once more in 2008 on the Wii for more motion-controlled action, thanks to the Wii remote.
Now the titular Amigo is back on Nintendo Switch with all of his friends, and wardrobes full of funky costumes, to take on the world in a spectacular dance party!
The motion-controlled Joy-Con controllers are the maracas this time around for the main mode of play, though there is a button configuration for those that don't want to flail, or for those using a Nintendo Switch Lite.
Scroll down for the full list of songs and the launch trailer:
Full song list:
"Azukita"

Steve Aoki and Play-N-Skillz,

feat. Daddy Yankee, Elvis Crespo

"Bang Bang"

Jessie J, Ariana Grande, and Nicki Minaj

"Bom Bom"

Sam and the Womp

"Break Free"

Ariana Grande featuring Zedd

"Celebrate"

Pitbull

"Centerfold"

The J. Geils Band

"Chosen Mask"

Sega

"The Cup of Life (La Copa de la Vida)"

Ricky Martin

"Escape from the City"

Sonic Adventure 2

"Fist Bump"

Sonic Forces

"Fugue"

Cover

"Get Busy"

Soolja

"Good Feeling"

Flo Rida

"Good Time"

Owl City and Carly Rae Jepsen

"I Love It"

Icona Pop featuring Charli XCX

"I Really Like You"

Carly Rae Jepsen

"I Will Survive (Eric Kupper Mix Extended)"

Gloria Gaynor

"I Won't Let You Down"

OK Go

"Just Dance"

Lady Gaga featuring Colby O'Donis

"Karma Chameleon"

Culture Club

"La Bamba"

Cover

"Let You Go"

Diplo and TSHA featuring Kareem Lomax

"Let's Find It and Shake It"

Sega

"Macarena"

Cover

"Make Way"

Aloe Blacc

"Move Your Feet"

Junior Senior

"Moves like Jagger"

Maroon 5 featuring Christina Aguilera

"Pa'lla"

Max Pizzolante

"Panama"

Matteo

"Payback"

Cheat Codes featuring Icona Pop

"Plastic Hearts"

Miley Cyrus

"Pompeii"

Bastille

"Runaway (U & I)"

Galantis

"Scent of Your Sweet Love"

Sega

"Sucker"

Jonas Brothers

"Tik Tok"

Kesha

"Vamos a Carnaval"

Sega

"XS"

Rina Sawayama

"You & Me"

Marshmello

"You Give Love a Bad Name"

Bon Jovi
More songs from the Sonic the Hedgehog series are available as DLC right now, and SEGA promises more music in the form of paid DLC in the future!
While the Wii version of Samba de Amigo had a larger audience than its Dreamcast predecessor, it was rife with control issues, as Wii remotes couldn't quite keep up with the samba action on harder difficulties.
Thankfully it seems those issues have been put to rest in this recent Switch outing, thanks to the extra precision found in Joy-Con controllers.
With the promise of more precise controls, online play, local multiplayer, and more songs to come, this looks set to be a Samba entry to celebrate!