Site News: Happy New Year!

Posted 01 Jan 2023 at 22:46 by Sam C Gittins
Well, that was 2022... How was the year for you?
Inevitably, games have proven once again that they can provide a decent distraction for many of us throughout the year. Many of us at N-Europe have been playing Mario Kart 8 DX most weeks as part of our Get Together, thanks to the DLC tracks which have been released throughout the year.
With half of them still to be released by the end of this year, it's possible we'll still be playing Mario Kart regularly throughout 2023, especially with the addition of custom item rulesets, which have already proven to be a worthy addition.
Super Smash Bros. Ultimate is still being played regularly as part of our Saturday Smash, which a few of us closed out last year with, featuring a host of favourite videogame characters which were chosen for each other, which helped to keep the spirit of mystery alive, while engaging in battles over familiar foregrounds.
Thanks to Glen who often organises these aforementioned events, and more such as the N-E Online Mario Parties, which have also proven to be popular this year. And thanks to everyone who has joined in with these regular game nights.
I've joined in with Mario Kart 8 DX and Super Smash Bros. Ultimate this year, in addition to playing a lot of Phantasy Star Online Episode I & II on the Nintendo GameCube, plus other consoles as well. You can catch highlights of some N-E game nights each week, plus other games (mostly PSO) streamed most weeks on my currently active Twitch channel. [/ShamelessPlug]
You can always check out our forums. There are many topics, with opinions on everything, and there is some decent discussion to be had, especially if you're into any of the latest videogames, or even Retro titles.
There may be some reviews going live on the main page of N-Europe this year, though I won't put too much energy into the hypothetical realm, as they will likely be sporadic as they can take a lot of energy to write, and this site is run voluntarily. Thank you to everyone who keeps this site online.
Speaking of which, a special mention to Josh who has been covering some of the news, alongside myself over the past year, and though we're taking a break, we're hoping to be getting back into posting the usual noteworthy news events, as they occur. There may even be some new features planned, but again, please temper your expectations, as it depends on how much energy we have to put into the site, but we'll certainly contribute what we can.
N-Europe would like to take this opportunity to wish all our visitors a very Happy New Year, and all of best for 2023, which will surely be a year to remember in general, but also for Nintendo, who will surely have a few surprises in store, waiting inside the question-mark block.
"The power is within us all, it always has been, no power-up block required.
It can be surprising, discovering what's truly possible, within your own reality, which only you can render.
We see what is comfortable for us at the time, this can change every day, like an aperture inside a lens.
There is as much to unlearn, as there is to learn, we have as much of an appetite for distraction as we allow.
When everything seems overwhelming, bring it back to yourself, as vast as the internet is, the inner-net is surely incalculable.
It has the answers more often than we care to admit, as the truth is always in the room with us.
Here's to unlearning, increased capacity for compassion, and being present in the moment."
Editor-in-Chief
Sam C Gittins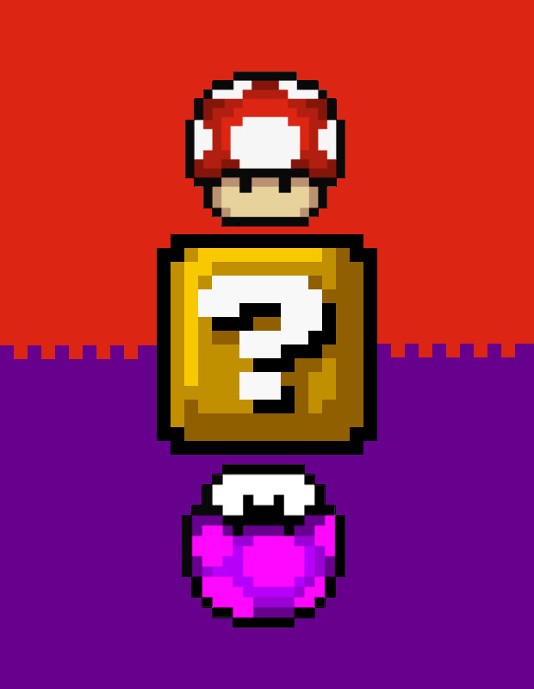 Keep the mystery alive, leave some question mark blocks for others to ponder.
Do you have any intentions for 2023? Have you any fond memories from this past year, possibly related to videogames? (or your reality) What's your message for this year and beyond?