SteamWorld Build Announced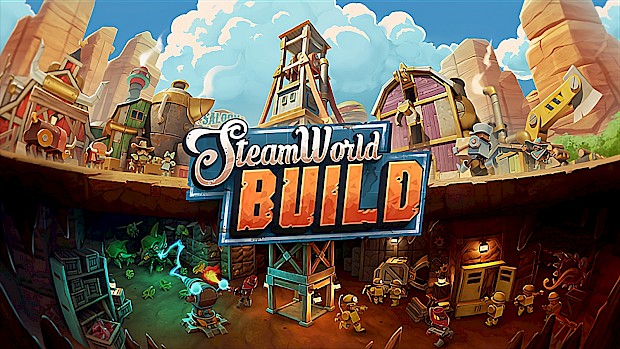 Posted 24 Jan 2023 at 23:04 by Joshua Phillips
The latest title in the SteamWorld series, SteamWorld Build, is coming this year to Nintendo Switch, following on from the success of SteamWorld Heist and Quest.
This latest title tasks you with building, mining and expanding a town, in a similar vein to games such as MineCraft and Sim City.
In SteamWorld Build, the steambots establish a mining town to excavate ancient technology that can take them into space. Can you effectively manage resources, tend to the ever-growing needs of the citizens and defend their mine from the creatures that lurk down below?
BUILD

Be the architect of a SteamWorld mining town! Break ground and raise houses for your steambot citizens, keep them fed and provide some rootin'-tootin' entertainment.

There's an abandoned mine sitting under your town, and it's rumored to be filled with ancient tech that holds the key to escaping the impending doom. Use the natural resources above ground and the abundant ores buried in the mine to expand your town. Stimulate new residential tiers to join the quest to dig deeper, unearth untold riches and ultimately help them to hightail it off the planet!

MANAGE

As the town expands in all directions, new kinds of steamfolk find their way to the settlement - and their needs are ever more complex to satisfy. To keep everyone content, you'll need to make sure everyone works their darn hardest.

Buy items to boost the efficiency of buildings. Keep goods flowing up and down the mine by speeding up the miners with encouraging jolts of electricity. Or, just barter at the local train station and get what you need that way. It's all up to you!

MINE & EXPLORE

As you go hunting deeper and deeper in the mine after riches, eventually something will start hunting you back. Defend your workers from creepy creatures and keep the walls from caving in as you explore the deeper levels of your mine.

FEATURES

Set in the multi award-winning SteamWorld Universe
Build your own unique SteamWorld mining town
Explore and develop an abandoned mine
Manage and optimize increasingly complex resource chains
Tackle the dangers you will encounter
Experience five distinctive SteamWorld-inspired maps littered with secrets
Easy to pick up and play with keyboard and mouse or with a controller
Three well-balanced difficulty levels to give a challenge to players of all abilities