Tetris 99 Grand Prix number 19 is approaching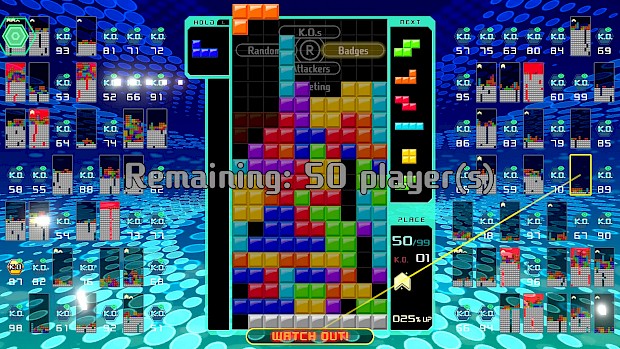 Posted 06 Jan 2021 at 10:38 by Dennis Tummers
It is time for the 19th Grand Prix in Tetris 99, the Tetris battle royale game exclusive for Nintendo Switch Online members. This time, it is Kirby who takes the spotlight, as an exclusive theme based on Kirby Fighters 2 is waiting as a reward.

The theme will unlock when you collect 100 event points during the event period. The Grand Prix runs from Friday 8th of January 8:00 CET until Tuesday 12th of January 07:59 CET. The higher you finish in a match, the more event points you score.
You can watch the theme introduction and details in the Tweet below!
<center> <blockquote class="twitter-tweet"><p lang="en"
dir="ltr">The next <a href="https://twitter.com/hashtag/TETRIS99?src=hash&amp;ref_src=twsrc%5Etfw">#TETRIS99< Grand Prix is puzzling puffball pandemonium! This

time, you can earn an exclusive <a href="https://twitter.com/hashtag/KirbyFighters2?src=hash&amp;ref_src=twsrc%5Etfw">#KirbyFighters2< theme! <a href="https://twitter.com/Tetris_Official?ref_src=twsrc%5Etfw">@tetris_official< <a href="https://t.co/xsTXTXEaap">pic.twitter.com/xsTXTXEaap<<&mdash; Nintendo of Europe (@NintendoEurope) <a href="https://twitter.com/NintendoEurope/status/1346743306458460160?ref_src=twsrc%5Etfw">January 6, 2021<</blockquote> <script async src="https://platform.twitter.com/widgets.js" charset="utf-8"></script> <