Tetris 99 update adds Team Battle Mode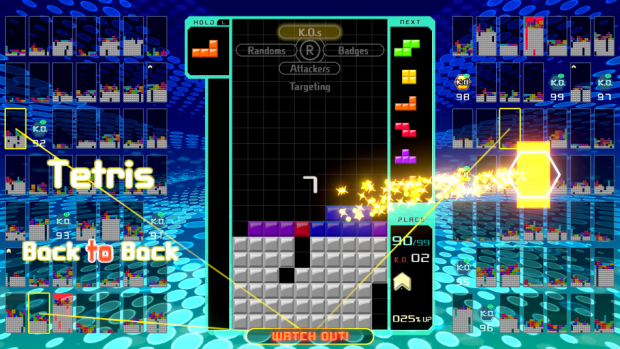 Posted 11 Dec 2019 at 09:35 by Dennis Tummers
Tetris 99, the battle royale Tetris game for subscribers to the Nintendo Switch Online service has a new update. Version 2.1.0 adds a bunch of new options.
The biggest one is Team Battle Mode. In this new game mode you pick one of four teams, and you and your teammates fight together to be the last team standing. That gives you a one-in-four chance to grab a Tetris Maximus!
New emblems are added as well. Further you have the option to unlock four themes that were available in past events. Good news for those who missed out on them.
Speaking of events, the 10th Tetris Maximus event is being held from December 13 to December 17 and it is all about the new Team Battle Mode. The prize is once again 999 gold coins, which can be redeemed in the Nintendo eShop.
<center> <blockquote class="twitter-tweet"><p lang="en"
dir="ltr">The <a href="https://twitter.com/hashtag/TETRIS99?src=hash&amp;ref_src=twsrc%5Etfw">#TETRIS99< Grand Prix 10 is on from 08:00 CET on 13/12 until 07:59 CET on 17/12!<br><br>This

time, compete in online team battles to be in with a chance of winning 999 Gold Points, worth €9.99 on <a href="https://twitter.com/hashtag/eShop?src=hash&amp;ref_src=twsrc%5Etfw">#eShop<! <a href="https://twitter.com/Tetris_Official?ref_src=twsrc%5Etfw">@tetris_official<<br><br>More info: <a href="https://t.co/PFHhTsYwEy">https://t.co/PFHhTsYwEy< <a href="https://t.co/ztiAtndUl3">pic.twitter.com/ztiAtndUl3<<&mdash; Nintendo of Europe (@NintendoEurope) <a href="https://twitter.com/NintendoEurope/status/1204690071141654530?ref_src=twsrc%5Etfw">December 11, 2019<</blockquote> <script async src="https://platform.twitter.com/widgets.js" charset="utf-8"></script> <