The 12th Tetris Maximus is starting on the 24th of April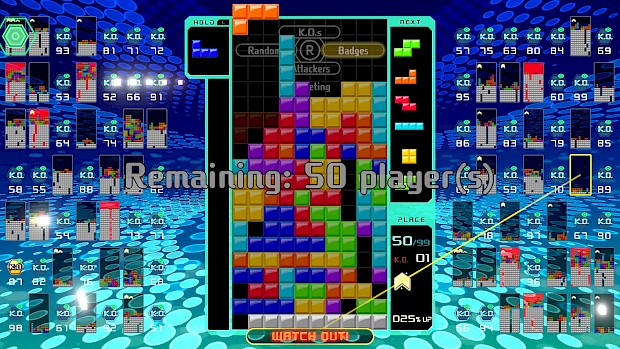 Posted 21 Apr 2020 at 07:35 by Dennis Tummers
Tetris 99 is still going strong, and the 12th Maximus Cup is upon us. From April 24 onwards you can compete and gather points for a special reward.
If you accumulate 100 points in the tournament period, you will receive a new theme based on Ring Fit Adventure. The higher you end in a match, the more points you will receive.
For some added immersion and to get a good workout in the style of Ring Fit Adventure, we advice you to do a squat every time you hard drop a Tetrimino.
<center> <blockquote class="twitter-tweet"><p lang="en"
dir="ltr">The <a href="https://twitter.com/hashtag/TETRIS99?src=hash&amp;ref_src=twsrc%5Etfw">#TETRIS99< Grand Prix 12 is on from 09:00 CEST on 24/04 until 08:59 CEST on 28/04!<br><br>This

time, flex your brain muscles with a special <a href="https://twitter.com/hashtag/RingFitAdventure?src=hash&amp;ref_src=twsrc%5Etfw">#RingFitAdventure< crossover event! <a href="https://twitter.com/Tetris_Official?ref_src=twsrc%5Etfw">@tetris_official<<br><br>More info: <a href="https://t.co/XdbSEpRDRk">https://t.co/XdbSEpRDRk< <a href="https://t.co/aUOtpwr8tG">pic.twitter.com/aUOtpwr8tG<<&mdash; Nintendo of Europe (@NintendoEurope) <a href="https://twitter.com/NintendoEurope/status/1252507452693712896?ref_src=twsrc%5Etfw">April 21, 2020<</blockquote> <script async src="https://platform.twitter.com/widgets.js" charset="utf-8"></script> <