Review: ACA NeoGeo: The King of Fighters '94

Posted 07 May 2017 at 16:24 by Sam C Gittins
Welcome to an Arcade Archives review, N-Europe's verdict on the updated Neo Geo titles being released on the Nintendo Switch eShop on a regular basis. Written by Sam C Gittins
Naturally it wouldn't be long before a game from the Fighting genre would end up being reviewed when you're covering a game series mostly made up of SNK titles, indeed being that there are so many I felt that it's only right to start with the first game from the most famous of all franchises from the company which is of course The King of Fighters.

So without further ado, on with the review!
Price: GB £6.29, EU €6.99
Publisher: Hamster
Developer: SNK
Released: 1994
System: Neo Geo
A company famed for its varied range of fighting games, the mighty SNK has many strings to its bow where the fighting genre is concerned. Famous they may be for creating such games such as Fatal Fury and Samurai Showdown but they were not the examples that put them firmly on the map, that title belongs to the King of Fighters.

This is the first in the series and what an entry it is, taking characters from familiar fighting franchises from the company's back-catalogue ranging from the aforementioned examples alongside Art of Fighting & Ikari warriors and then putting them into one game for one massive mash-up.

Envision it as SNK's version of Super Smash Brothers but made before, starring characters mostly from fighting games; while I don't mean to compare the two very different games in terms of quality it's merely to give you a rough idea of the concept. So yes, it's a fighting game featuring the best of the best from fighters past featuring a roster ranging from Ryo Sakazaki, Terry & Andy Bogard, Kyo Kusanagi and my personal favourite Mai Shiranui.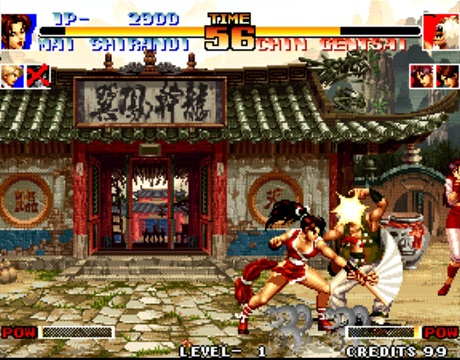 Mai oh Mai, that's some fantastic fan technique.
Mainly are notable for being compared to be equal with or even better than Capcom's legendary Street Fighter series; KOF revolves around picking a trio of fighters, you battle your way through as many enemies as you can but when all your team is beaten it's game over. Your energy bar for each character is carried over from the previous punch-up so it's a satisfying challenge to try and complete the main story with your chosen three.

The diverse range of characters really helps to set it apart from most fighters released at the time, the individual move sets make for an entertaining experience for the player as you attempt to master the moves in order for your team to triumph. It's quite the visual and audible set-piece too with a level of artistic detail and strong background music which easily places it as one of the prettiest two-dimensional games currently available on the Nintendo Switch eShop as it can stand proudly alongside more modern offerings and still be more than confident.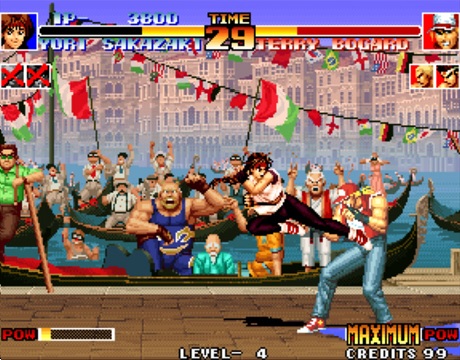 Plenty of other characters are available as well, Yuri-n for a treat with this one!
Again it's up to you to choose which controller fits your style of play the best, I'm always going to advise using the option which provides you with the most responsive D-Pad, so unsurprisingly that is the Pro Controller because I can't advise with any conscience wrestling with the split buttons of the left Joy-Con when it comes to fighting games in particular which require more precise movement. You may well get away with using the analogue stick but it's less than ideal, Hamster have done their very best to update these games and keep them relevant so it seems a shame for Nintendo to effectively ask players to just "deal with it" when it comes to trying to play KoF or any other Fighting/classic games on the Switch with no real D-Pad when in portable mode.

Only really falling short in a few areas where it shows its age in comparison to more modern fighters such as the lack of counters, aerial blocking and rather sedate special moves. Those slight inadequacies aside, this is a fine example of a truly great fighting game which easily ranks right up there as one of the best and is a suitably sufficient start to a fantastic franchise.
N-Europe Final Verdict
A carefully crafted fighting game which represents a strong start for what has gone on to become an amazing series. The King of Fighters '94 is still well worth appreciating even though it has been bettered by its superior sequels.
Gameplay

4

Playability

3

Visuals

4

Audio

4

Lifespan

3
Final Score
7
Pros
Authentic audio
Beautiful backdrops
Rewards persistence
Cons
Controls could be tighter
Might prove difficult for some