Review: Card Games: The Classics
Posted 03 Mar 2012 at 12:04 by Derek Wheatley
DS Review
Easy to pick up and play if you know the rules. However for those unfamiliar with any of the games, instructions are available for each. Consideration has been given as different people have grown up playing different versions of certain games, some rules can be customised to a variation you may be more familiar with. And a handy hint system is on hand to give you a limited amount of assistance should you get stuck on where to put your next card.Card Games: The Classics is, not surprisingly, a collection of various card games. They span from games which can be played on your own, such as the various variations of the Solitaire engine (Spider Solitaire, Freecell, Klondike and more). Also on offer are games which can be played against the computer such as Go Fish and the different formats of Poker (Texas Hold 'em, 5-Card Draw etc.)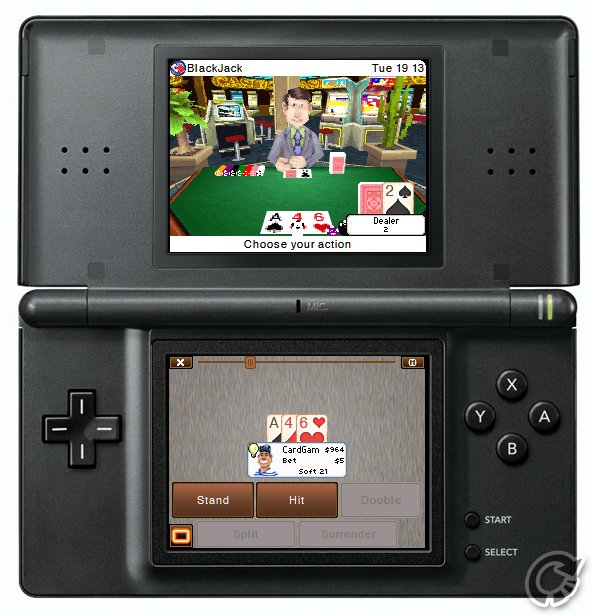 The action is done with the stylus for all those card picking and card moving moments. Simple tapping is easy enough although when it comes to dragging cards over - especially those in a pile, precision is needed otherwise frustration will ensue when you realise you've not selected the correct card. For those games which are played in groups, other players are represented by some really unusual and mostly ugly looking characters, each having a certain skill level so you can set the difficulty of your game. This isn't a game which has been made with just the single player in mind. Both local and internet options have been made available so you can raise the stakes, bluff and play your winning hand all over the world.
Despite its blocky characters, low-key soundtrack and at-times fiddly controls, Card Games: The Classics is a fun game, especially in short bursts and perfect for on the go. Prolonged exposure staring at the little screen simply playing Solitaire is enough to drive anyone mad. Its main downside is that pretty much each of these games can be found online for free (or even as a phone app) and can be played more easily with a mouse.
N-Europe Final Verdict
If you like playing card games, you'll like this. If you don't like playing card games, you won't like this. It's that simple.
Gameplay

4

Playability

4

Visuals

2

Audio

1

Lifespan

4
Final Score
5
Pros
Online for multiplayer fun
Familiar games
Cons
It's just card games
Poor soundtrack
Fiddly controls