Review: Dr Kawashima's Brain Training for Nintendo Switch

Posted 20 Dec 2019 at 14:01 by Ashley Jones
Most people probably didn't expect Dr. Kawashima's Brain Training: How Old Is Your Brain? to become one of the best selling Nintendo DS titles but since its release back in 2005 it has sold over 19 million copies since and became a cornerstone of the Touch! Generations series from that time.
Fast forward 14 years and you'll be forgiven for thinking "what more could they offer" but Dr Kawashima's Brain Training for Nintendo Switch (henceforth 'Brain Training') does a good job of offering the classic modes we have come to know and love and introduce some new ones that make use of the Switch's hardware, much like the original did for the Nintendo DS, as well as introduce multiplayer for the first time in the series' history.
The core mechanics, progression tracking and even some of the training exercises have not trained. You play through some daily mental challenges, each challenging different areas of your brain and are given a Brain Age Score, all while being encouraged by the polygonal Dr Kawashima. Each training exercise also keeps track of your personal best and you're encouraged to return daily to try and do better.
Brain Training is designed to be played in portable and tabletop mode (different activities requiring different setups) and the game itself has two modes; Quick Play (which contain exercises to challenge yourself or to play with others) and Daily Training. Daily Training requires you to hold the Switch vertically, which at first feels almost unnatural but works surprisingly well.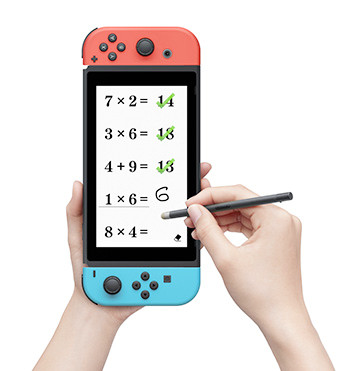 It's the stylish Switch stylus which steals the show.
One of the big new features is the utilisation of the IR Motion Camera in the right Joy-Con, which essentially acts as a miniature webcam (or a certain long-forgotten product by one of Nintendo's competitors) and requires you to use your hands. The Brain Age check is essentially a game of Rock, Paper, Scissors that you play using the IR Motion Camera, although sometimes you'll be asked to intentionally lose which takes a bit of getting used to.
Other games require you to answer basic maths questions with your hand or copy the on-screen hand shape. It all works surprisingly well, although sometimes you can get lucky and pass something while you're just transitioning your fingers between numbers. Holding the Joy-Can in one hand and using your other works fine, although you may want to make yourself a little Joy-Con holding device (i.e. some books on a table) to make life a bit easier. I found when playing some of these modes I would make the correct shape but at the wrong angle (not used to having to play Rock, Paper, Scissors towards a camera after all) and it does take some getting used to.
The other big new feature is the introduction of multiplayer. There are three training activities that can be played with someone else; Birdwatching, Box Counting and Flag Raising. Birdwatching and Box Counting are essentially counting games, requiring you each to hold one Joy-Con and press the trigger button to count and the shoulder button to confirm. The main difference between them is you're counting what you can see on the screen in Birdwatching and in Box Counting you're shown something and then have to count afterwards.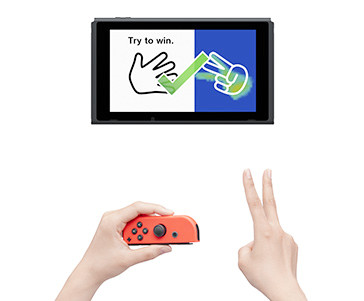 The best example of Janken in a game since the boss battles from Alex Kidd in Miracle World?
Flag Raising plays slightly differently as you need to recreate a pattern you're shown, pointing the Joy-Con either up, down, left or right. Each time you're shown a pattern you need to hold your Joy-Con forward to re-calibrate but it can be quite easy to try and jump straight into the action.
Aside from this a lot of the training exercises, at least the ones we're allowed to talk about, are familiar to anyone that has played the series. There is of course Sudoku, calculations (25 or 100) and more. The different exercises have been designed to stimulate different parts of your brain such as your information processing speed, short-term memory and self-control.
The handwriting recognition is pretty impressive, although in my experience I found it struggled with the number 5 at times. Usually drawing the horizontal line first and then the rest worked, but sometimes basically writing a 'S' also worked. Hopefully Nintendo is tracking all this kind of stuff and future updates will iron out some of these kinks, although all things considered (i.e. my handwriting is pretty rubbish at the best of times) it does a good job.
I've only had the game for a few days so I can't speak for the longevity of it, but like its predecessors if you can carve out a little time each day to play it there is no doubt it will be beneficial to you. While the title does keep track of how well you do in each exercise, really the aim is to just flex your brain muscles a little bit each day. Like a crossword book of yore (do they still exist?) it can be comforting to curl up and challenge yourself for a little bit. I'd actually forgotten that I find Sudoku enjoyable until I played it again here.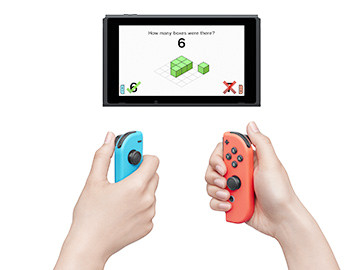 You can't beat a good game of Box Thing Peek Counting!
Nintendo has also promised more features in the future, including the ability to share your results with family and friends each day (via a post-release update) and even World Brain Training Championships! We'll assume some of our readers will be competing in the World Brain Training Championships.
There is one important issue though that some fans should consider. Some of the exercises require you to detach the Joy-Con, meaning owners of the Nintendo Switch Lite are left out in the cold. You may be able to use a different set of Joy-Cons, but then I'm unsure if the software would work differently for the Switch Lite to account for this (namely, it won't wait for you to detach something you can't detach).
If you buy the game physically it comes with a sleek looking official black stylus to make playing the game easier. It's a good looking stylus that is quite understated (there's even a black logo on a black background) and shows clear progression from the original DS plastic stick. It could obviously also be quite useful for other games as well so it would be beneficial to pick up the physical copy rather than the digital one if you don't already own a stylus.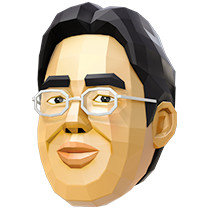 Dr. Kawashima there, looking as stylish as possible for a disembodied, flat-shaded polygonal head.
Overall Dr Kawashima's Brain Training for Nintendo Switch offers more of what we've come to expect from the series but with some interesting new additions. The original game was a surprise success that reached a much wider market than just traditional gamers and no doubt Nintendo hope that this will happen again. Given its low price point it's worth picking up if you want something that will challenge your brain a little bit every day. Released on January 3rd it is very much designed with #newdecadenewme in mind.
N-Europe Final Verdict
Much like the DS version this is designed to dip into a little bit each day. There's some interesting new additions and the multiplayer games are fun, but really this title is what you make of it. Stick with it and it'l be rewarding, but if you give up quickly it's not for you.
Gameplay

4

Playability

5

Visuals

3

Audio

3

Lifespan

4
Final Score
0
Pros
It's Brain Training for a new generation
Uses the Nintendo Switch in unique ways
Free stylus! (physical version only)
Cons
Switch Lite users might miss out on some aspects