Review: Fast RMX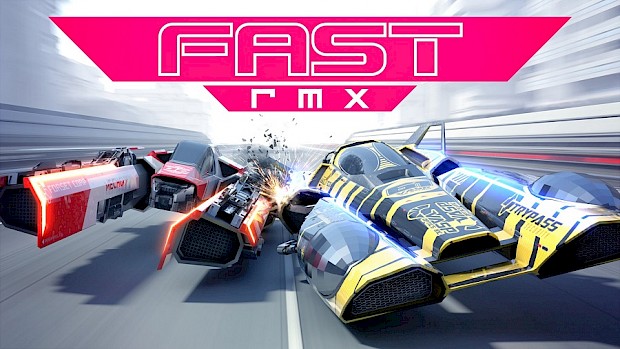 Posted 17 Mar 2017 at 15:19 by Anil Parmar
Since the release of F-Zero GX on the Nintendo Gamecube, Nintendo fans have been clamouring for another high-octane racing game that matches the thrills of Nintendo's historic franchise. Whilst we wait and hope for a new F-Zero title, Shin'en has managed to provide an ample substitute in Fast RMX, and it's absolutely worth your money.
First things first; this isn't a brand new title. Fast RMX is an updated version of the original Wii U game, which was highly rated for its brilliant on-track action. The Nintendo Switch version gives the game a new lease of life, running at a truly stunning 1080p docked and 720p when in portable mode, as well as featuring all of the original games DLC. Shin'en have also added in six new circuits and they've ensured that the game runs at a smooth 60fps. Visually, the game is nothing short of breath-taking.
As the name suggests, the gameplay in Fast RMX takes place at lightning speed and your reactions will have to be at their very best in order to master the supersonic gameplay. Whilst clearly inspired by famous racing titles such as Wipeout and F-Zero, Fast introduces its own unique mechanic whereby the player can be change to and from a blue and orange phase. By hitting coloured boost pads scattered around a race track, racers will get a huge boost of speed if they are in the correct phase. It's a simple yet effective mechanic and it puts a real emphasis on learning the layout of each track.
Mastering each circuit doesn't just involve learning where the boost pads are though; players are also required to collect energy orbs to charge up a manual boost. Even on the easiest difficultly setting I found that unless I filled up my boost regularly I had no chance of winning. Again, it's a simple mechanic but it's utilised well, adding a unique challenge to each race.
The main single player mode has three difficulty settings, however the jump up from the easiest setting, Subsonic, isn't as large as I would have hoped. Traditionally, increasing the difficulty, and therefore speed, in a racing game results in players having to learn different lines through the corners in order to achieve strong lap times. I rarely found this to be the case in Fast RMX, although when the lowest difficulty setting is already incredibly quick, this shouldn't be too surprising. What does increase however is the AI, which I did find to become surprisingly cheap as the game progressed. The issue of rubber banding the AI has been prevalent in racing games for decades and it's a shame that to see it here.
As well as featuring a wealth of single player content, Fast RMX supports eight player online and four player split screen support, as well as local online player providing each Switch player owns a copy of the game. Unfortunately a lack of polish shows when playing online though, with players just thrown into the action without being allowed to find friends to play with. With no matchmaking and no further options to customise the online experience, it's bitterly disappointing that a game perfectly suited to online play misses such key features. The developers have promised to bring an update to the game in the future but it's a shame these features weren't ready for the Switch launch.
Fast RMX may be inspired by titles like Wipeout and F-Zero but its unique gameplay helps to carve out its own identity. Frustrating AI and disappointing online aside, Fast RMX is a superb racing game and a visual showcase for the Nintendo Switch. It may lack the polish of its forefathers, but it certainly has the gameplay.
N-Europe Final Verdict
A high-octane racing game that proves its more than just a F-Zero wannabe. Fast RMX is a brilliant racer and a showcase of the Switch's capabilities, let down only by its AI. Grab a few friends though and you'll love it.
Gameplay

5

Playability

4

Visuals

5

Audio

3

Lifespan

4
Final Score
8
Pros
Incredible visuals
Well designed courses
Plenty of single player content
Cons
Frustrating AI
Bare-bones AI