Review: Mighty Switch Force! Hyper Drive Edition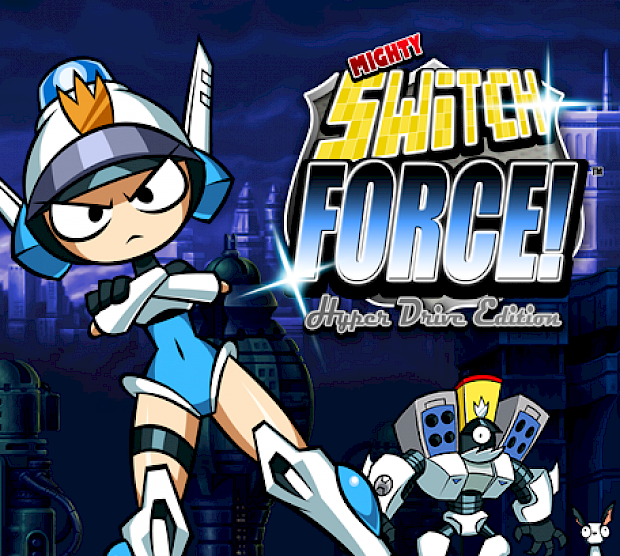 Posted 08 Feb 2013 at 12:22 by Sam C Gittins
When the original Mighty Switch Force was released on the 3DS it became an instant classic, - just as many of WayForward's games tend to - due to its addictive puzzle/platform orientated focus, sumptuous 3D visuals and catchy music all coupled with perfect controls which made it quite simply a joy to play from start to finish. So when it was announced that the game would be ported across from 3DS to Wii U it's understandable that many were excited about the prospect of being able to replay this modern-day classic on the big screen; besides out of all recent portable eShop titles this is surely the one that's most deserving.

For anyone who's unfamiliar with the premise, you assume the role of a robotic cop called Patricia Wagon, it's your duty to hunt down the Hooligan Sisters against the clock which gives you the perfect excuse to run, jump and 'switch' your way through the stages; indeed it's this 'switching' which forms the basis of the game's main gimmick which allows you to swap blocks between background and foreground at the tap of a button. You'll be hearing the sound and seeing the flash of Patricia's helmet siren many times through the course of each stage as you frantically switch-out blocks mid-jump or simply in sequence to create bridges, it may sound relatively simple but once you play it for yourself you'll understand and most likely blame yourself as you accidentally misjudge a switch, catapulting your policewoman protagonist toward the screen, sacrificing a life in the process.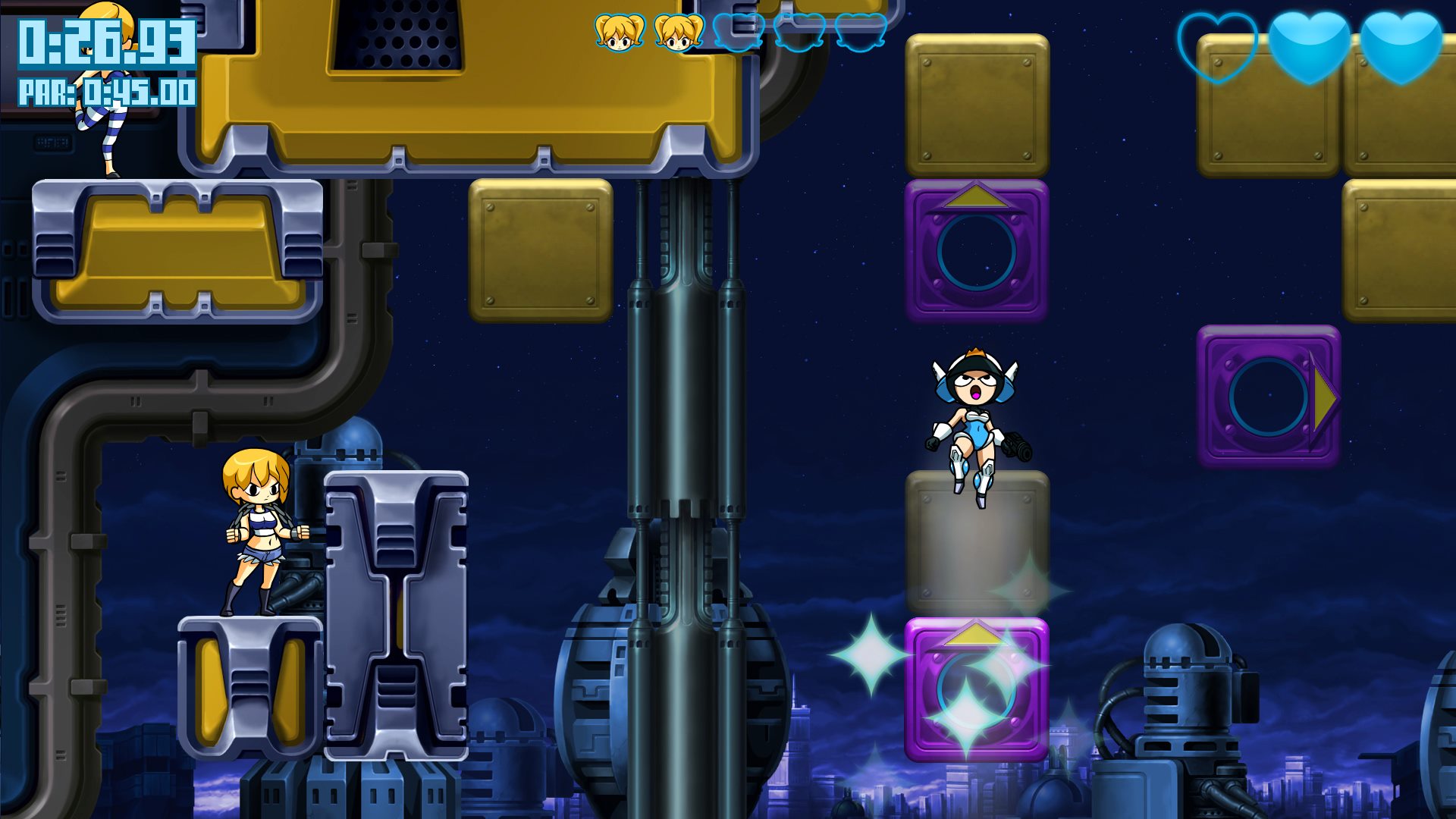 Naturally there are other robotic enemies who will get in your way, more often than not it will be necessary to dispatch with them either by squashing them with blocks, or by blasting them with your... blaster, doing so should reward you with either a key which instantly unlocks a barrier or a possibly much needed heart, which might just help you last a little bit longer. You may be pleased with just merely 'passing' each stage in under three minutes but really that's only - quite literally - half of it, as you will want to return to beat the par times which are more often than not half of that time or less, this makes for some interesting 'challenge accepted' instances which will no doubt test your skills, especially when you consider that you have (including the five bonus ones) twenty-one stages to master... it will more than likely take you a while.

Being that WayForward are famed for their gorgeous visuals, you would be right to expect something spectacular in this department so fear not your expectations will certainly be met and then some, clearly the graphic artists have gone beyond just up-scaling everything because all that you see is so polished that you'd be forgiven for thinking that it's an original title than a mere port, such is the effort that has gone into producing the sprites alongside the beautiful backdrops and fantastic, futuristic foregrounds. Audibly the same addicting sound is present here, including some suitably up-tempo beats that will spur you on, alongside the substantial sound effects which really help to hold everything together, truly top-tier stuff.

Regardless of whether you're playing on the big screen or the gamepad, it all holds together marvelously well but the only thing that's really missing is proper Miiverse integration, while you can still post in the relevant community it would have added so much more to the experience to have just had leader-boards and the ability to post screenshots containing your best times; perhaps this is something that could be added in a future update though so it's nothing to get too steamed-up over. It's still a fantastic game in its own right and is truly representative of what the developer is all about so if you've get to play a game by this somewhat legendary team then you should really start here as you really can't go far wrong with this.

Even if you have already invested in the 3DS version previously, this is a game that begs to be played in HD as well so you would do well in picking this up again as it's such a great experience even the second time around, also if you act fast you may still be able to obtain it at a slightly lower price-point so what better time to buy than now? It should go without saying that if you haven't played Mighty Switch Force yet then you really do owe it to yourself to give it a go, it's the perfect example of just how good not just an eShop title can be but a game in general, pure fun without any filler just as it should be.
N-Europe Final Verdict
Without a doubt Mighty Switch Force deserves a place in your Wii U collection, it's a uniquely charming example of brilliance that will fill you with joy from start to finish. Even if you're unsure, do yourself a favour and 'switch it up!' just this once, you won't be disappointed.
Gameplay

4

Playability

5

Visuals

5

Audio

5

Lifespan

3
Final Score
9
Pros
Addictive and fun
Glorious visuals
Original core mechanic
Sumptuous soundtrack
Cons
Might not last you too long