Review: New Style Boutique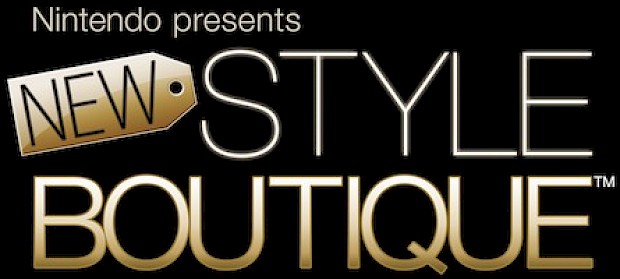 Posted 17 Nov 2012 at 14:25 by Ashley Jones
If you ever need proof that the DS, and subsequently the 3DS, increased the diversity of gamers look no further than New Style Boutique. The fashion-focused Nintendo 3DS title offers you the chance to work in a clothing boutique, providing fashion advice for the plethora of characters that pass through.

The game is so skewed towards the fairer sex that it assumes you to be female (apparently the world of New Style Boutique lacks the Kleins, Lagerfelds and Saint Laurents of ours). At the start of the game you get to pick how you look, and evidently if I were female I'd look a bit like Ginnifer Goodwin. The game features plenty of facial parts to choose from, meaning that the in-game characters vary but tend to favour the wide-eyed anime look when it comes to eyes.

In terms of actual gameplay, New Style Boutique certainly has a lot on offer. You begin by walking into a boutique and being offered a job. From there you soon start offering fashion advice, buying inventory, managing the budget and even decorate your own home. There is an underlying storyline, but unless you are particularly invested in it you'll find yourself tapping A (or the touch screen) a lot to skip past the text.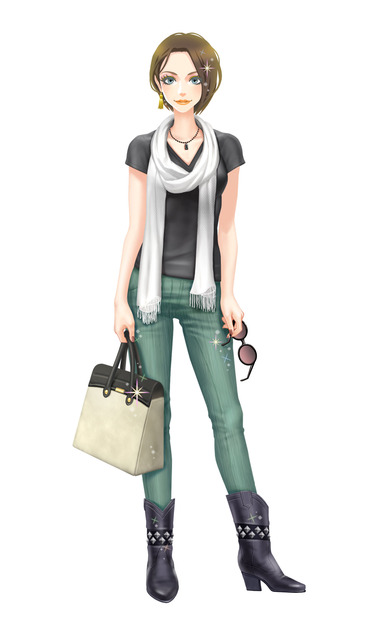 The customers (both male and female, but you need to unlock the former) that walk in will describe their situation and what they are looking for, along the lines of "I need a lively skirt for a picnic", and then it's off to the fitting room. You are presented with different clothing types to choose from using your own eyes, or there is a menu to narrow down your results by style, type etc.

I am not sure whether the customers are easy to please or I am just a fashionista in waiting (anyone who has met me in real life could probably tell you I'm not), but I seemed to progress with little worry. It could be my artistic background that helped me put outfits together, but even without a keen eye for these things the game will guide you so that you become better at it.

When you do satisfy a customer your happiness crystal fills up. At the end of each in-game day the happiness you collect advances the stages of the moon, ultimately resulting in further aspects of the game opening up.

New Style Boutique was clearly made for people who are into fashion, and with plenty of tips and insights into the fashion industry scattered about, it offers a unique playing experience for anyone that may hold aspirations to work within the field. It won't replace a grueling few years at a fashion college followed by unpaid internships galore, but it's a start.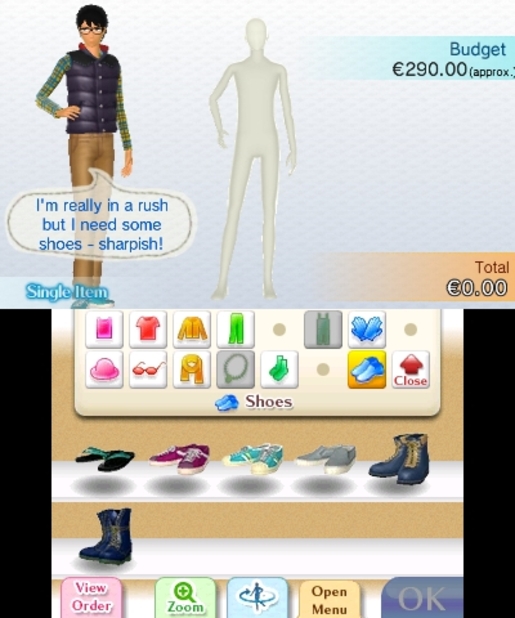 There is plenty to keep you busy outside of the fashion-focused follies; whether it is drinking tea in the cafe, applying your sense of style to your own apartment or getting your flower fortune read. New Style Boutique has enough variety in it that gamers won't end up trapped in the endless cycle of meeting customer demands. A certainly degree of flexibility exists in how you approach the title; allowing you to either just focus on the upkeep of the boutique, explore the wider fashion industry or just play it as a stylish life simulation game.

The graphics are anime-inspired and colourful and while they may not be groundbreaking, there are moments of subtle animation that show attention and care has been put into the making of New Style Boutique. The background music on offer is pleasant enough, in that barely-noticeable way.

Numerous features take advantage of the console's components; such as the ability to create an online store for others to visit, the use of SpotPass and in-game photo taking (by using the R button, which sometimes results in accidental photographs). You can even use the Augmented Reality cards to display your stylish outfits in the real world, if you're in the mood for showing off.

While New Style Boutique offers a range of activities and an admirable amount of depth, for what could have just been a clothing sim, make no mistake - this is a game for anyone with a strong interest in fashion. It is unlikely anyone else would buy this game in fairness, but if you have a penchant for pairing patterns and personalities then it is worth investing in New Style Boutique.
N-Europe Final Verdict
New Style Boutique may well be made for a niche audience, but it is by no means just for those interested in fashion. There is plenty on offer outside the main dressing up mechanic, although it is likely to only be played by the target audience.
Gameplay

4

Playability

4

Visuals

4

Audio

3

Lifespan

3
Final Score
7
Pros
Wide range of activities
Plenty of clothes to keep things interesting
Includes some business-like elements
Cons
Limited audience appeal