Review: Pro Evolution Soccer 2011 3D
Posted 30 Apr 2011 at 11:11 by Mark Lee
3DS Review
"However when your players step onto the pitch it evokes that been-here and seen that feeling. Until you turn on the 3D slider...
All of a sudden those stadiums come alive"
Ah Pro Evolution Soccer, I've been playing you since 32-bit was cutting-edge and when you went all PS2, I even imported you for my Gamecube. It's fair to say though that your next-gen replacements have disappointed on the pitch and so your old engine gets a run out every now and then to remind the new boys how slick you were. (Note: in no way does that sentiment reflect Steven Gerrard's footballing career.)
So jumping into PES on the 3DS is a familiar experience from the off. It initially doesn't feel any different from the console iterations seen on Wii and the PS2. Infact, it only seems like a letdown when you realise you can't play online, but stick with it and you'll discover a whole lot more in the palm of your hand than the drawbacks suggest.
And those initial drawbacks are certainly clear. Gone is the 'Be a Legend' mode and the online mode. Huge omissions that immediately threaten to relegate this outing to the bargain bin division. Instead, what is present are the now-creaking stalwarts of the franchise. That means Master League and traditional exhibition games feature against the slick Champions League mode.
This streamlining of the PES feature-set seems to place importance on just jumping into quick matches when the system is picked up. Now that's all well and good (as is the ability to just close the system to pause games), but for those looking for a football title that's 'sociable', the omissions are about as sensible as beating ten men and scoring then realising you beat your own team.
Thankfully international and club teams appear fully licensed just as they did in the console iterations (with only Manchester United and Tottenham Hotspur being officially licensed in the Premier League). There are 170 club and 60 national teams too ensuring most teams are present. An editing mode appears yet the most important thing, namely editing kits, isn't present. Frustratingly this means that some Premier League teams look nowhere like their real counterparts which is a shocking oversight.
Thankfully player names and likenesses are all present and correct and there are around 26 stadiums to pick from and you can still set up matches in multiple ways. From picking the ball you want to predicting the weather and player fitness to tweaking your formation - to then changing it at the tap of the bottom screen, PES does have moments where it proves it has the credentials to be a top handheld game of football.
However when your players step onto the pitch it evokes that been-here and seen that feeling. Until you turn on the 3D slider...
All of a sudden those stadiums come alive, you can see the stands clearly and the fans sitting in the tiers. You can see the players crisply defined against each other and when you actually start knocking the ball about the 3D effect makes perfect sense. Taking a set piece is now a thing of beauty and everything feels solid and tangible. It's actually mind-blowing and makes football games come alive like never before. Now your crosses, shots and passes are all in perfect 3D space enabling you to see where the game is going at all times.
Some of the camera options Konami have newly integrated are also sublime and really enable you to judge passes and shots much better. In particular, playing in the vertical wide/close views (as seen below) is a joy to behold. You can even set your player options so that you only play as one individual - thus evoking the Be a Legend mode. So it is on the pitch where PES comes alive again and wholly redeems itself. Perhaps testament to one of the best developed football engines of all time and in 3D you feel closer to the action than ever before.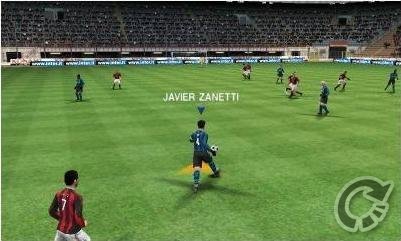 The 3DS itself whilst small, enables you to pull off a wealth of moves just like in the console editions and with practice you'll be sweeping the ball from one wing to another with the grace of Barcelona whilst torturing the AI's goal mouth. The analogue slider is also a learning experience that is worth it, ensuring that the D-pad will never be used when mastered.
When it's good, PES 3D is on another level with the audio commentary being slick, the sound effects being spot on (although a little tinny through headphones) and the player likenesses and animations even trouncing the Wii editions. Through all of this, PES does just enough to remind you that this is better than any previous handheld football outing. (Having played the PSP FIFA and PES games thoroughly, this title blows both away).
But just as you get better and you start to best the hardest AI, you'll be reminded that there are no online modes. Just when you want to challenge some human competition you've got to remember that another player needs the game too and that the street pass Master League exchanges (your team simulates playing someone else's) are the only sociable elements to the game.
It is in this fact then that PES is almost a guilty pleasure. It's a real solo experience on the 3DS and whilst that's a real shame for football aficionados, the game of football it does play is one that is still a fine representation of the beautiful game.
N-Europe Final Verdict
PES 2011 offers slick gameplay and striking 3D yet is let down by having no online mode and some sloppy, minor omissions. Still, for football fans, PES 3D offers a lot of mileage until the expected 2012 edition.
Gameplay

4

Playability

4

Visuals

4

Audio

4

Lifespan

3
Final Score
7
Pros
Classic PES in your pocket!
Stunning 3D
Slick and technically solid
Cons
Lack of online mode(s)
Limited editing mode
Unable to save replays