Review: Runbow

Posted 04 Aug 2018 at 06:57 by Paul Muchmore
One of the latest in a line of Wii U indie 'classics' to make the jump to the Nintendo Switch in search of a wider audience, Runbow returns with its technicolour multiplayer madness in full swing.
Debuting in 2015, 13AM Games' stylish platformer is pretty basic, as things go. Run from left to right, jump, double-jump and occasionally punch something until you reach the trophy.
What makes Runbow unique, however, is the colour changing mechanic. Through each stage, a Dulux swatch of hues sweeps through the background, changing the very nature of the course you must traverse. When red sweeps through, red platforms will disappear, only reappearing once another cycles through. While the platforming itself can be rather basic, the dimension of whether the platform will actually be there when you reach it adds a fun (yet often oh so frustrating) dynamic that makes this not just any platformer.
Runbow isn't lacking in ways to play, with all modes supporting up to eight players locally, with online modes supporting nine players and allowing you to take a party of four online. It is clear from the start menu that the multiplayer modes were the developer's focus, with the three main modes 'Run', 'Arena' and 'King of the Hill' the top options you are presented with.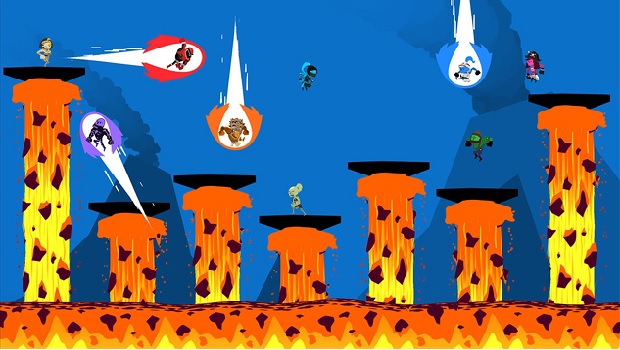 Super Smash Bros. Runbow edition!
'Run' is the basic Runbow gameplay - reach the goal before your opponents. 'Arena' has you vying to be the last man standing, encouraging almost Super Smash Bros. style brawls (even including taunts!) to knock your opponents off the colour-changing stage. 'King of the Hill' sees you trying to dominate one part of the level for a set amount of time.
It can all get very chaotic, and very fun and its easy to see why this was regarded as one of the Wii U's best indie party games. Keeping up with up to eight players, while also navigating changing platforms and other colour-affected environmental hazards will really have you gripping that joy-con hard. However, it's disappointing that if you only have two or three players, there's no way of adding bots to replicate the madness of having a large group available. And while online can solve this problem for you, this reviewer struggled to find a game to connect to.
While I've presented Runbow as a multiplayer focused game, there's still plenty of fun to have if you're playing on your own. the adventure mode is basically non-existent in plot, but provides a structure in presenting the game's stages, in which the majority will see you trying to reach the trophy at the end, but others will ask you to collect a certain number of objects, or kill a number of enemies. Depending on how quickly you clear a stage, you will be rewarded with up to three medals, which in turn unlock extra characters and bonus art.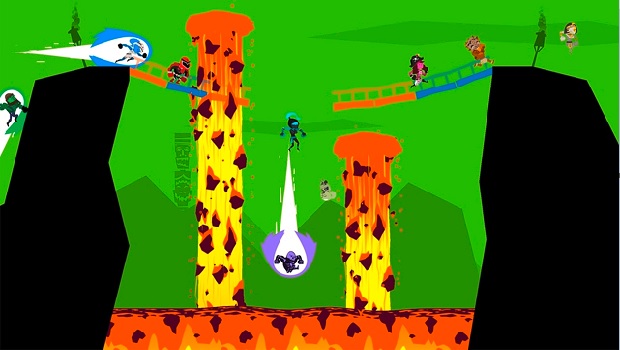 Watch out for the... lava. Nevermind.
Each stage can typically be completed in under 30 seconds, making this a true pick up and play title, perfect for a commute. And while you may think you'll fly through the stages with them being so short, it's unlikely you'll clear a lot of them first time, with practice making perfect on the title's trickiest stages. But importantly, it never feels unfair and really gives you the 'just one more go' feeling when you fail.
And on top of the adventure mode there is the challenge of the Bowhemoth, an ultimate stage that will have even the most ardent of platforming fans pulling out their hair - there's no checkpoints here!
The clean, stylish visuals, which while basic are distinctive and polished, and catchy soundtrack just add to the addictive nature of Runbow, which has a personality that shines through to make it clear that this isn't just any runner title. Many giggles slipped from this writer's mouth at its hundreds of witty taunts on the reloading screen when you fall to your death - 'Do you even lift?'
While the main Runbow characters are completely generic, albeit having unlockable costumes to personalise, one of this title's true joys is its celebration of the rest of the indie community. The protagonists from the likes of Guacamelee, Shantae, and Steamworld Dig are among the unlockable characters, really aiding the game's 'Indie Smash' feel.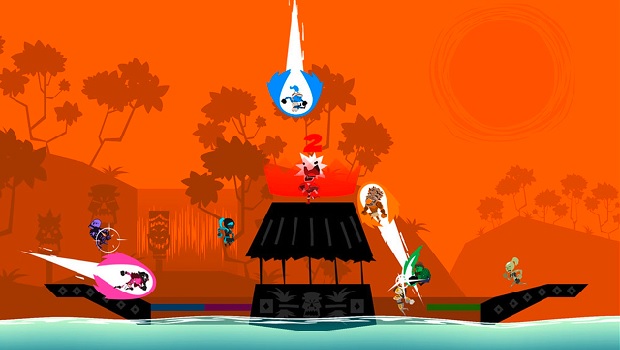 This is still a runner game, but with extra modes this addictive, it's surely so much more.
Runbow undoubtedly provides plenty of fun whether you're playing on your own or with friends. There are a few little niggles, for example that if you are playing on your own in handheld mode, it asks you to remove the joy-cons to play, clearly showing its focus as a multiplayer title. You can, however, reattach them to the console once you have selected your character. The lack of bots and difficulty of finding a match online could make this title a less attractive proposition if you tend to play alone.
Ultimately though, Runbow is a fantastic value package with plenty of content for its £11.99 on the eShop, with extra adventure content and costumes available as DLC, with a complete package due for retail release in August.
N-Europe Final Verdict
A unique, stylish platformer that will keep you coming back for more with its addictive nature and chaotic multiplayer madness, Runbow is a welcome addition to the Switch library, especially if you have friends to play with.
Gameplay

4

Playability

4

Visuals

4

Audio

4

Lifespan

3
Final Score
8
Pros
Unique addictive platforming fun
Wonderfully presented package
Great for parties
Cons
No bots
Hard to find a game online
Doesn't like you to play in handheld mode!