Review: Splatoon 2

Posted 18 Jul 2017 at 15:00 by Jonathan Stanley
While the Wii U as a console may not have been the success Nintendo were hoping for, it did produce some memorable software such as Mario Kart 8, Super Mario 3D World and Super Mario Maker. Confounding the myth that Nintendo are a one-mustachioed plumber pony, however, was arguably the Wii U's biggest stand out hit; a brand new, multiplayer centric IP developed in Kyoto itself called Splatoon.
Splatoon proved immensely popular worldwide, shifting millions of copies and with gamers logging up hundred of hours. So, when the Switch was officially unveiled in January, it was almost a no brainer that Splatoon would be appearing in one way or another, either like Mario Kart 8 in a Deluxe version or, as it turns out, a fully fledged sequel. Coming so soon in the Switch's life cycle, what is already proving a popular console could go gang busters if Splatoon 2 lives up to the hype the original has created. Rather than changing the wheel, Nintendo have delivered a solid, well improved sequel that irons out flaws, retains others but never loses the sense of fun that the Wii U game brought to each and every match.
For those who missed the first Splatoon, the game involves paint. Lots of paint. It's a classic Nintendo take on the shoot 'em up formula; replacing realistic warfare and real life weaponry for playful equivalents that fire out globs of colourful splosh which help you win whichever game mode you're playing. You can take down down enemies directly or solve puzzles in single player using the stuff, or in the standard multiplayer mode, Turf War, the aim is for your team to cover as much of the ground as possible to secure victory.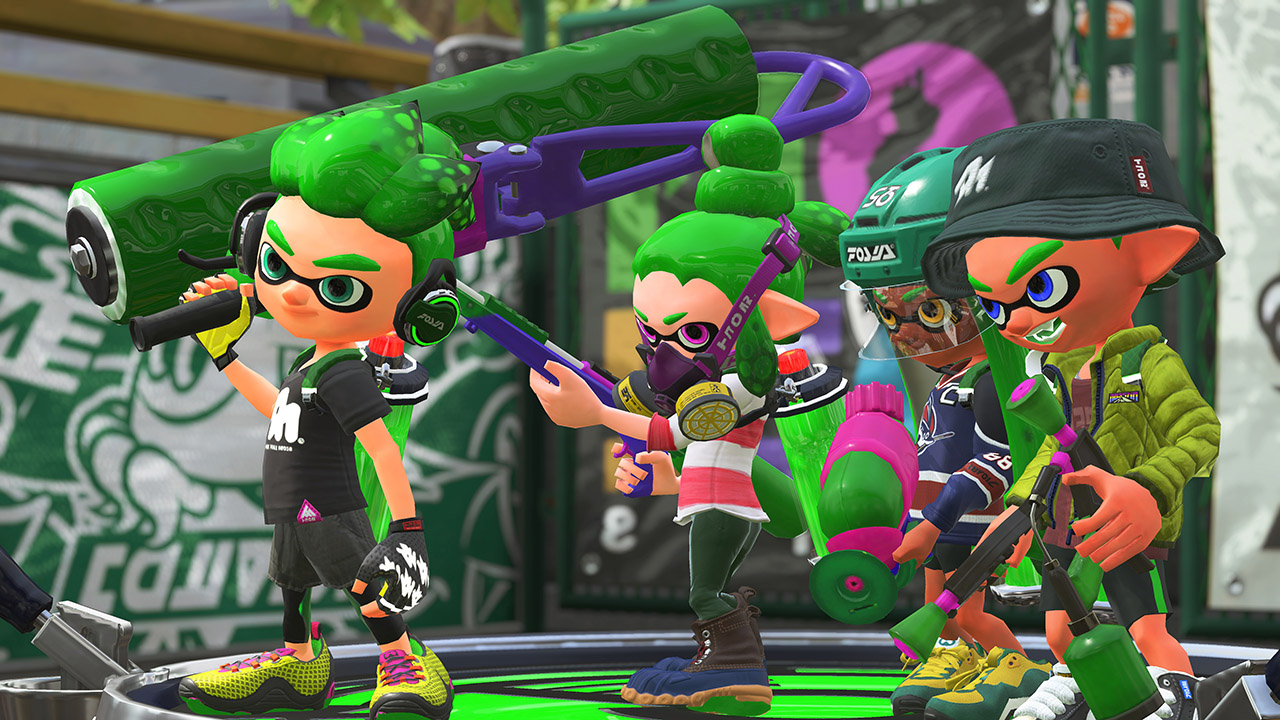 It's also a classic Nintendo take on a game because underneath this playful and colourful exterior is an incredibly deep and rich experience which offers plenty of play modes, play styles and customisation options to keep you entertained for some time. It's this attention to detail that warrants comparisons with even the most serious of shooters like the Call of Duty or Battlefield series; indeed anyone chiding Splatoon players for enjoying a "kiddie" game needs to get up to speed, ink splatting has never been a more serious business.
Pleasingly the game does have an ample single player campaign to get stuck into, and for new players it provides a great opportunity to get to grips with different weapons and play styles. Returning players will still find enjoyment, but will notice incredible similarities between this single player and the first one, bar a few characters replacing others.
Still, it is a robust campaign and strikes a great balance with the multiplayer as well; having been a fan of both games in the Titanfall series I'd say this is the combination of the first and second one, with the great campaign coupled with the strong multiplayer that the Titanfall games managed in one but not the other iteration, never getting the balance quite right. It's also a useful introduction to the controls of the game, which have retained the motion controls from the original. These can be switched off however for more traditional analogue movements; personally I found the motion controls as the best method while playing on the TV, however if you're going handheld it seemed to lose in translation and is worth switching off. Nintendo has also covered the lack of second screen fairly simply as well, placing the map to the X button and then blasting to a team mates location from there.
The campaign lasts about 8-10 hours approx, and the first few stages are very run of the mill, catering for newcomers as this game is keen to do. Once Sheldon gets involved and asks you to start testing out his weapons in the field, business very much picks up; the initial level that sees you wielding new weapon the Dualies being a frenetic delight. It's great for what it is, however if you are buying Splatoon 2 as a single player experience you will be left sorely disappointed, even though a casual rhythm based mini game in Inkopolis is probably worth the asking price alone in terms of how fun, infuriating, and down right addictive it is.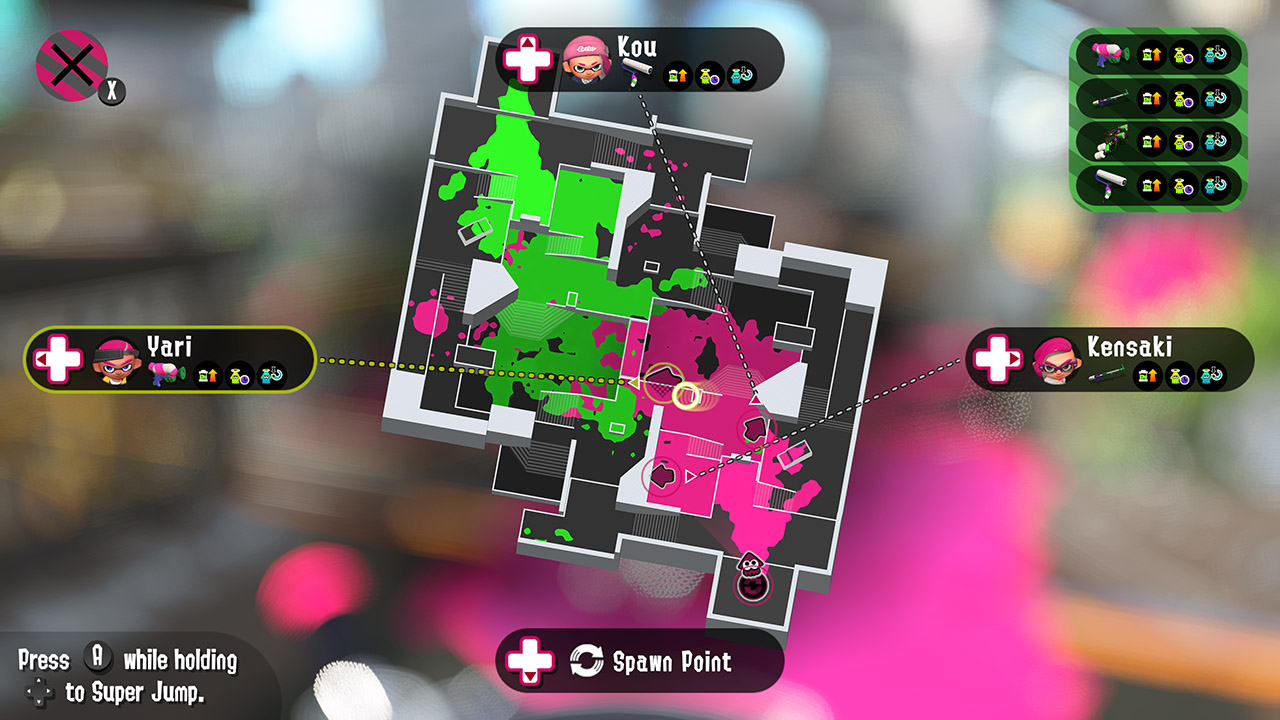 Much like the original, multiplayer is where this game really takes centre stage, with Turf Wars yet again being the brilliantly entertaining showpiece. What is, in essence, an incredibly simple concept becomes a madcap, fast paced, heart pounding paint fest as you strive until the very last minute to cover as much ground as you possibly can
Much like the original, multiplayer is where this game really takes centre stage, with Turf Wars yet again being the brilliantly entertaining showpiece. What is, in essence, an incredibly simple concept becomes a madcap, fast paced, heart pounding paint fest as you strive until the very last minute to cover as much ground as you possibly can. The aim is never to splat as many opponents as you can, however this does add to your score and, obviously, slows them down from covering the ground themselves, giving you the opportunity to really make inroads into their territory.
The map rotation works in the same way as the original, with newcomers Marina and Pearl taking over presenting duties from Callie and Marie and letting you know at the start of each play session which two maps are in for Turf Wars and Ranked Battles as well. The new maps such as Hump Back Pump Track and Musselforge Bridge will feel incredibly familiar to returning players but no less enjoyable; there's a definite DNA in all of the maps that has carried over from the Wii U game, which is only a good thing.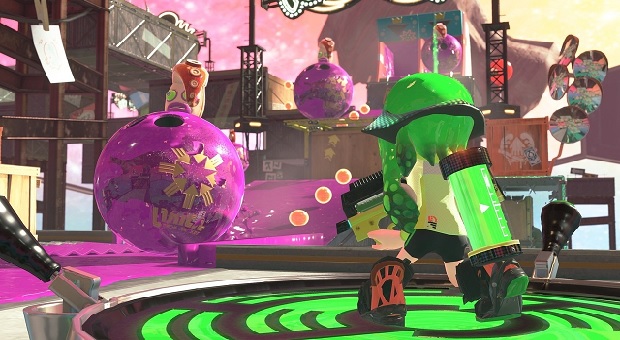 Ranked battles are where the serious players go when Turf Wars doesn't quite scratch the itch, encompassing different game styles like Splat Zones and Rainmaker and objectives which, rather than just giving you more experience points whether you win or lose, increases your ranking from a C- up to an A+ depending on how good you are and how many games you win. Ranked League's are for you and friends to go head to head with other groups, and Salmon Run is Splatoon 2's take on horde mode and is a great addition to the line up of game options, especially if you have a team able to work together against the onslaught.
Introduced into the Inkopolis hub is The Shoal, which is the local hub match making area; with Switch local play is just as important as online, with all the same game modes included. Sadly one thing I didn't get to test out was the new online app that promises matchmaking and voice chat capabilities, something which was sorely lacking from the original, especially when you consider just how important team work is in a tactical shooter. There is an icon in the game for this service so whether it's just locked to smartphones or indeed can be accessed in game, we will find out soon enough. But then, the fact that you can play a game this technically impressive any where you want...I know it's not possible for everyone, but if you can play this in local multiplayer I imagine the fun could be amplified quite significantly.
Indeed although I made lofty comparisons to other, more established series earlier, Splatoon 2 does still lack a few features which will no doubt annoy those who take their tactics seriously. Once again load outs cannot be changed either mid match or even in the online lobby, in fact once you're match making you can't seem to back out at all until you're either paired into the game or can't find any one else.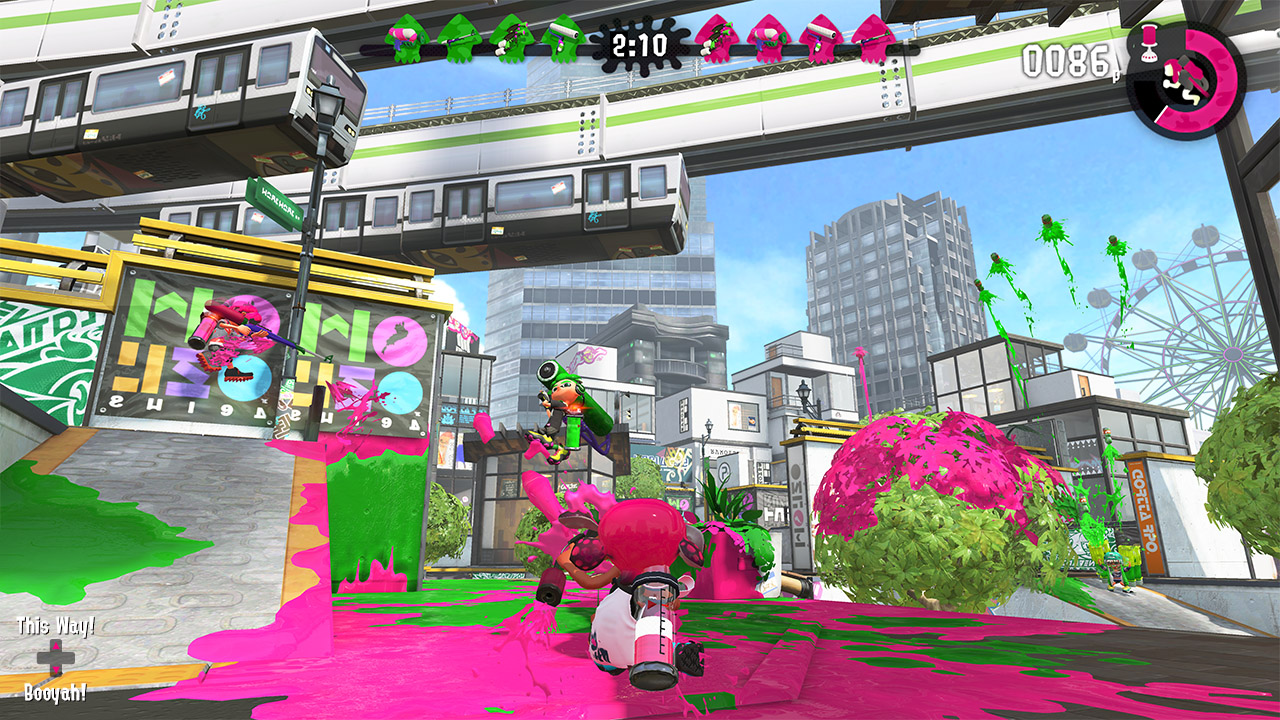 This is a great game, but is it worthy of the number 2 after the name? For me, this is very much Splatoon 1.5. Which in many ways is not a bad thing, it's retained the core elements that made the first game so successful and enjoyable, tweaked them here and there and added a few more bits into the mixer as well that only enhance the game. But some of the same niggles exist that stop it being the absolute premiere shooter on any console. But then, in a world of yearly Call of Duty and FIFA games that have improvements that are minimal to say the least, why shouldn't Nintendo use what they've already got and just add a few extra bits on, rather than reinvent the wheel or, indeed, upend the tea table as Miyamoto famously does.
This game will sell. This game will sell Switches. This game will be receiving constant updates for the next five odd years in the form of maps, weapons, and hopefully updated options for loadouts etc as well. So at what is a great starting point for the series on the Switch only promises to get better and better over time, to the extent that this is starting off where Splatoon finished, and considering where that game started, with bare bones maps, play styles and weapons, fills me with great confidence that this will be yet another evergreen Nintendo title.
Splatoon 2 retains the great fun from the Wii U original and provides the Switch with yet another other must have game. Although this isn't quite a revolution, it's a progression for the series which, although it doesn't sort out some existing issues which will annoy many gamers, it does enough right to be considered one of the best shooters of this generation, without a single bullet being fired.
N-Europe Final Verdict
Splatoon 2 retains the frantic fun of the original and, much like the Wii U hit, it is much more enjoyable in multiplayer. Local multiplayer and the Switch's design opens it up, but the beating inky heart of this game remains largely the same, which has some issues but means this game is still a hell of a lot of fun.
Gameplay

5

Playability

4

Visuals

4

Audio

5

Lifespan

5
Final Score
8
Pros
Immensely fun
Great single player and mini game
Easy to join in, hard to master
Updates due consistently
Local multiplayer
Cons
Issues not resolved from original
Possible options hidden behind Amiibo
More like version 1.5 than 2