Review: Triangle Strategy

Posted 06 Apr 2022 at 19:45 by Glen O'Brien
I'm not very good at strategy games. Something about having to think a few steps ahead makes me really struggle. And yet, I find myself inexplicably drawn to them from time to time. Because of this, they tend to be a bit hit and miss when it comes to my enjoyment of them. In fact, I almost didn't buy this game. That is, until I played the demo.
On the surface, Triangle Strategy looks to be a Strategy RPG, but that's only partly true. This is a very plot-heavy game. It takes a good 10 minutes of cutscenes before you even get into your first battle. With how much dialogue the game throws at you, it borders on being a visual novel at times. Whether this is a deal-breaker depends on just how much you want the plot to intervene on the gameplay. But if that's something you're fine with, then you're going to find a game with some interesting mechanics behind it.
The game takes place in Norzelia, a country that was the site of a big war over salt. Salt is a precious resource in this medieval setting, and while the three states that make up Norzelia are currently at peace, well, it's not exactly going to surprise anyone that things are going to go to pot sooner or later. Given how prominent the plot is, I found it quite enjoyable. Political intrigue plays a major role, and for the most part, I was keen to find out what would happen next. It's not all perfect though, some of the voice acting is a bit rough at times, mostly from the main protagonist, Serenoa. It's certainly not terrible, and it's something I got used to as the game progressed, but the voicework doesn't make the best first impression it could have.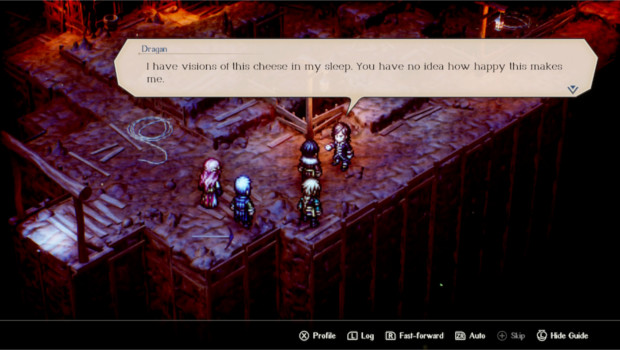 Dragan, I feel our tastes in cheese are equilateral!
The game is split up into three sections. The exploration phase involves traversing around various areas, gathering items to help with battles, as well as obtaining information about the world the game takes place in, information that comes into play during the voting phase. Throughout the game, you'll face choices on how to proceed with the story, the problem is, the path you go down is determined by 7 other characters and their choices. That said, you can use the information you've gathered to try and convince these characters to go down the path you think is right.
There's some nuance to this though. The choices you must make fall into 3 categories, Morality, Utility, and Liberty. How you respond to questions and how you handle battles will change your convictions and determine how convincing you can be. If your actions don't match up with the path you want to go down, you might not be able to convince others to see your point of view. This may seem a bit obtuse at times, but I think it's an interesting way to implement multiple paths, which is helped by some of the legitimately difficult choices throughout.
When you're not dealing with the plot, you'll likely be in the battling phase. These unfold in turn-based strategic fights where you manoeuvre your army around to exploit position, terrain, and the abilities of the characters you deploy to achieve victory. Being on higher ground or placing yourself behind enemies will increase the damage you deal. So, the name of the game is to put yourself in these advantageous positions while trying to prevent the enemy from doing the same.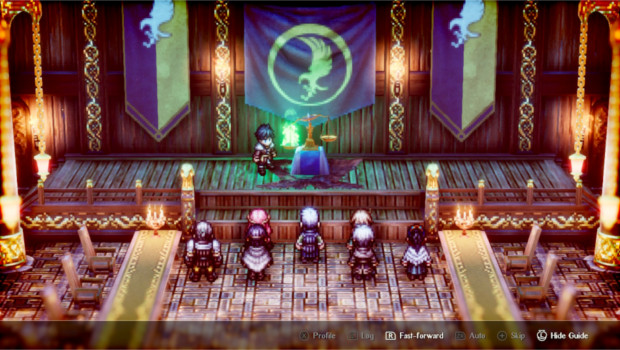 Should we rename these 'The Scalenes of Justice'? Let us hold a vote.
I was quite impressed with the variety of the maps in this game. Quite a lot of them have a gimmick or twist to keep things interesting. You might be asked to get a specific character to a certain point, or deal with unfavourable terrain. This is helped by the wide variety of characters you recruit along the way. No two characters have the same abilities. Every single one has different capabilities, even if they wield similar weapons. While it may mean that each character has a very specific role, the large number of characters helps to provide many different options for tactics. This is helped by the generous amount of experience points given to any characters who might be falling behind, so swapping around your setup is always a viable option, which is a good thing, because the game can get quite difficult at times. It never felt like it was unfair though.
The graphics utilise the "HD-2D" style of some recent Square Enix games that Octopath Traveler kickstarted, which isn't too surprising, seeing as Triangle Strategy is developed by many of the same people. The visuals mix retro style sprite work with more modern looking backdrops to create a striking look that I think looks great. It might not look as flashy as Octopath Traveler, but it's still a good-looking game. Similar praise can be given to the soundtrack, whether it be the title theme, or one of the many pieces of music you hear during battles, it all feels expertly crafted to fit the situation, and is a real highlight of this game.
I mentioned that I almost didn't buy Triangle Strategy at the start of this review, but now, while I'm currently doing a fourth playthrough to see more of the story, I'm glad I did. This is a fine Strategy RPG. It may not be for everyone, given its odd niche of Visual Novel meets Strategy RPG, but if that's what you're looking for in a game, then I can highly recommend this.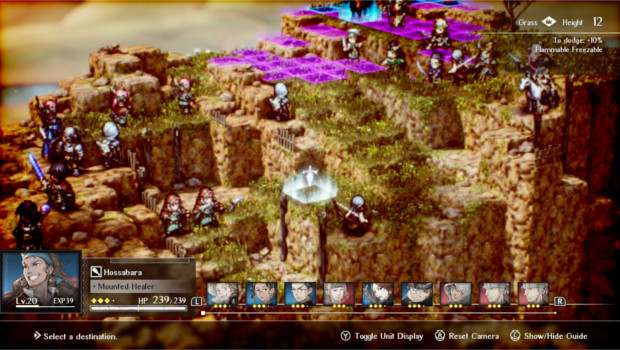 Cliffs like these need to be approached from the right angle.
N-Europe Final Verdict
Triangle Strategy is not going to please everyone, its focus is far too narrow for that. But the precise angles it hits makes for a memorable experience that I've never quite seen in this genre.
Gameplay

4

Playability

4

Visuals

5

Audio

5

Lifespan

4
Final Score
9
Pros
The battles and character aptitudes are varied enough to keep things interesting
The political intrigue and how branching paths are handled make for an engaging plot
The HD-2D visuals still look great, and have only gotten more refined since Octopath Traveler
Cons
The voice work can sometimes be a bit iffy
The large amount of cutscenes can put some people off